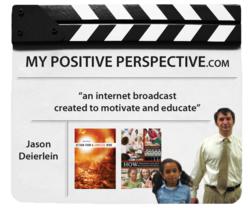 the fact is that I will always be a brain injury survivor
Charleston, SC (PRWEB) November 27, 2012
The end of November 2012 marks the end of season one for My Positive Perspective and founder Jason Deierlein. The final episode of the season marked an opportunity for Deierlein and guest Ben Toy to draw back on some of the topics discussed in the previous season.
When asked, Deierlein says, "Brain injury awareness is one of the main talking points covered and the fact that the problem is that I will always be a brain injury survivor." When people have education and are given guidance on how to deal with this problem the result is good.
The Autistic community is another thing that Deierlein focused on saying, "I had no idea autism was as common as it is. However, it is important for parents to know there are things that can be done besides just medication to treat this cognitive disorder. Exercise is very important for autistic children.
Another subject the company plans on continuing to follow up on is the story of Nick Collins. Collins is a local musician who was in a car accident and was comatose for an extended period of time. Collins is recovering extremely well, and Deierlein says, "I'm proud of the response Nick has given and recovering from his adversity, and I look forward to broadcasting episodes with him."
My Positive Perspective is an internet talk show created for the purposes of overcoming adversity. We educate and inspire in many different ways and talk about different types of obstacles, but the ultimate goal of this business is to spread positively and strengthen wherever there is a weakness or tragedy to overcome. I myself survived a car accident, coma, and painful rehabilitation. I consider myself lucky to be here and providing the public with this free service. This company is kind of my gift to myself for achieving. The one thing you never lose after surviving a tragedy is desire to help.