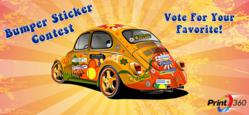 "Bumper stickers are great marketing tools for promotions or to provide support for a cause."
- Matt Marcus
Denver, Colorado (PRWEB) November 28, 2012
The custom printing company Print360 announces the opening of its public voting segment in the 2012 Bumper Sticker Slogan Contest, which is accessible from the Print360 Facebook page. Contest participants have submitted an original bumper sticker slogan or an original bumper sticker image for a chance to win a free iPad or iPod and 100 free bumper stickers that showcase their original design. The bumper sticker submissions will be judged by a panel that includes product labeling experts, who will select three entries among all eligible submissions as winners. The public voting segment allows visitors to the Print360 Facebook page to vote on fan favorites. After becoming a fan of Print360's Facebook page, visitors will gain access to special promotions and discounts as well as industry news, tips and advice.
"Participants in Print360's bumper sticker slogan contest have shown their humor and creativity," says Matt Marcus, Senior Vice President at Print360. "Bumper stickers are great marketing tools for promotions or to provide support for a cause. As a custom printing company, we fulfill orders for bumper stickers, car window stickers and all kinds of decals that get handed out at trade shows, included in direct mailers, and stuck on books or computers. When people visit the Print360 Facebook page and take a look at all the entries, they're going to enjoy picking a favorite," he adds.
To access the bumper sticker contest, visit the Print360 Facebook page. The first place winner will receive an iPad, the second place winner will receive an iPod Touch and the third place winner will receive an iPod Shuffle. All three winners will receive 100 free custom bumper stickers and his/her winning submission may be displayed on the Print360 website and associated social media properties. No purchase is necessary to participate in the Print360 2012 Bumper Sticker Slogan Contest and it is open to all legal residents of the 50 United States and D.C., who are 18 years of age or older.
Traditional uses of custom bumper stickers include event promotion, association affiliations, athletic team advocacy or school spirit, political support, business advertisements, and just plain fun. Visitors to Print360.com may build their own bumper sticker design, selecting from a variety of standard shapes, such as rectangles and circles, as well as special shapes, like ribbons, helmets, photos and paw prints. Online printing company Print360 provides an estimated life expectancy for each shape, based on normal weather conditions, along with affordable bumper sticker pricing and fast turnaround times.
About Print360:
Print360 specializes in custom printed products, including bumper stickers, business cards, buttons, product labels, envelopes, letterhead, magnets, mailing labels, post-it notes, return address labels, stamps and window decals. Operating in several state-of-the-art printing facilities across North America, Print360 utilizes both off-set and high-speed digital printers to meet a variety of product needs with fast turnaround times. The quality of Print360 products is a result of its team of talented print industry experts, some with more than 30 years of printing experience. Combining this expertise with high quality production capabilities, Print360 maintains its affordable prices and speed. For more information, visit Print360.com and find Print360 on Facebook, Twitter (@Print360), and Google+.