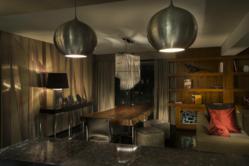 We can't wait to build upon the successes of 2012 as we move into the New Year.
Boston, MA (PRWEB) November 27, 2012
Revere Hotel is proud to announce its inclusion on TripAdvisor's "New in 2012 – 10 Buzzworthy Hotels" list. The honor is yet another feather in the cap of the Boston boutique hotel, which opened in April and earned its way onto several "best of" lists in short order.
The TripAdvisor list places Revere Hotel alongside buzzworthy hotels located across the country in destinations as diverse as Miami, New York City and Phoenix. The Revere experience lends itself to inclusion on a list like TripAdvisor, as the hotel features forward-thinking event spaces, modern rooms and daring flashes of upscale design and décor.
The Boston Common hotel has been on the receiving end of a wide range of honors since its grand opening. Arrive Magazine dubbed Revere the "Best Luxury Hotel in Boston" in its 2012 Best of the Northeast issue; Gayot.com called the boutique hotel one of the "Top 10 New U.S. Hotels;" And Wallpaper Magazine included Revere on its shortlist of the "Best Business Hotels 2012." The hotel earned an official recommendation from Conde Nast Johansens, one of the most influential tastemakers in the luxury travel world. AAA recently bestowed its coveted Four-Diamond certification upon the hotel, cementing it among the East Coast's elite.
"We're thrilled to be on the receiving end of these honors – especially coming from some of the most respected voices in the travel and hospitality industries," said Simon Mais, general manager. "Our guests deserve our most gracious thanks for making this happen. We can't wait to build upon the successes of 2012 as we move into the New Year."
The Revere Hotel website also earned several honors in recent weeks. The site earned a "Gold Davey" from the 2012 Davey Awards for major achievements in creativity and innovation, along with a "Silver Magellan" award from Travel Weekly. You can learn more about Revere Hotel or make reservations at the award-winning site, http://www.reverehotel.com.
About Revere Hotel:
Revere Hotel is a boutique hotel that channels the revolutionary spirit of Boston through its grand accommodations, innovative décor, and expansive facilities. With 356 contemporary and luxurious rooms and suites, uninterrupted views of the Boston skyline, and the glamorous onsite Emerald Lounge—perfect for cocktail conversation or private parties—Revere Hotel takes hospitality to new standards of excellence. Dine at the famous Rustic Kitchen Bistro & Bar, home to the weekly tapings of "The Cooking Show." Guests can host a conference or performance at Theatre 1, outfitted with 225 luscious, stadium seats. Another onsite venue, Space 57, is 6,700 square feet of blank canvas, customizable for large events or private receptions.