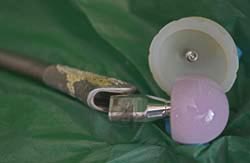 Our clients have suffered irreparable harm from these defective hip replacement parts.
Minneapolis, MN (PRWEB) November 27, 2012
Attorneys with the law firm PritzkerOlsen, P.A., have filed several lawsuits against Stryker Orthopaedics (Stryker) on behalf of clients injured by hip implant products the company recalled in July of 2012: ABGII Modular Stems, ABGII Modular Necks, Rejuvenate Modular Neck and Stem components (collectively referred to as Rejuvenate). The lawsuits were filed in New Jersey Superior Court, Bergen County (008497 12, 008483 12, 008492 12, 008502 12, and more).
Attorneys David Szerlag, Fred Pritzker and Brendan Flaherty are part of the firm's Stryker litigation team. They anticipate that the lawsuits will be consolidated in Bergen County and assigned to one judge. According to Szerlag, the firm's lead attorney for these cases, this would be the best way to ensure that their clients' cases are litigated in an efficient manner.
"The benefit of consolidation is that pre-trial procedures will not have to be duplicated, yet each lawsuit maintains its own identity," said Szerlag.
According to the complaints, filed in the Superior Court of New Jersey, Bergen County, the Stryker Rejuvenate products failed at the junction between the neck and stem due to corrosion and fretting. An image showing this corrosion can be found on the firm's website: http://www.pritzkerlaw.com/Defective_Medical_Devices/stryker-rejuvenate-recall-lawsuit-lawyers.html.
Szerlag, Pritzker and Flaherty allege that their clients suffered severe pain as the Stryker system failed and required revision surgery. During the surgery, evidence of severe metal poisoning and one or more of the following was found: the presence of milky, turbid fluid in the area of the Stryker Rejuvenate hip implants; large pseudotumor formation; soft tissue necrosis (death); muscle loss and/or bony necrosis of the femur, where the Rejuvenate stem was implanted. According to Szerlag, revision surgery, removing and replacing defective Stryker hip implants, is extremely invasive because the stem needs to be removed from the femur.
"Our clients have suffered irreparable harm from these defective hip replacement parts," said Szerlag. "The products implanted to prevent pain have caused more pain. Tissue and bones that were healthy are now dead or severely damaged, making it impossible for the revision hip replacement to fully restore function and prevent pain."
Attorneys David Szerlag, Fred Pritzker and Brendan Flaherty represent injured clients nationwide and have won millions for their clients, including over $40 million for clients injured by another medical product. They are providing free consultations to Stryker hip replacement patients, who can call 1-888-377-8900 (toll free) or submit the firm's online consultation form found here: http://www.pritzkerlaw.com/ArticleFolder/FreeConsultation.html. Szerlag, of counsel attorney for PritzkerOlsen, has offices in the Boston, Massachusetts area, Providence, Rhode Island and Minneapolis, Minnesota. PritzkerOlsen offices are located at 45 South 7th Street, Minneapolis, MN 55402.