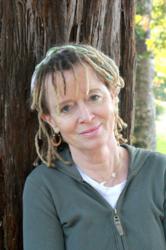 Napa, CA (PRWEB) November 27, 2012
Three-time bestselling author Anne Lamott, writes and speaks about subjects that begin with capital letters: Alcoholism, Motherhood, Jesus. But pushed forward by her laugh-out-loud sense of humor and straight out honesty, Lamott mystifies her audience. Author of 7 novels including: Hard Laughter, Rosie, Joe Jones, Blue Shoe, All New People, Crooked Little Heart the sequel to Rosie). As well as 5 bestselling non-fictional books: Operating Instructions, Bird by Bird: Some Instructions on Writing and Life, Traveling Mercies, and Plan B: Further Thoughts on Faith. Freida Mock, an Academy Award winning filmmaker, has produced a documentary on Anne Lamott entitled, Bird by Bird with Anne (1999).
Lamott's biweekly "online diary" under Salon Magazine, Word by Word, was voted "The Best of the Web" by TIME Magazine. In the Fall of 2010, Anne was inducted into the California Hall of Fame.
Her latest books are Some Assembly Required: A Journal of My Son's First Son which was released in Spring 2012, and her upcoming novel, Help, Thanks, Wow: The Three Essential Prayers. In Help, Thanks, Wow, Anne will be explaining how three simple prayers can get you going, asking for assistance from a higher power, showing appreciation of that given assistance, and then being able to see the world around you in a new wonderful light. Help, Thanks, Wow: The Three Essential Prayers was just released November 13th
Tickets for Anne Lamott are $30. They are on sale now and can be purchased through the theatre website at http://www.uptowntheatrenapa.com, at Ticketmaster (http://www.ticketmaster.com) or at the theatre box office (please call 707.259.0123 ext. 6 for hours). To find out more, please visit http://www.uptowntheatrenapa.com.
The Uptown Theatre Napa is downtown's ultimate destination for live concerts. Nestled in the famed West End district, this stunningly restored art deco masterpiece showcases only the finest acts, featuring music, comedy and more. An historic landmark, the Uptown offers a phenomenal, intimate live show experience, with excellent site lines and world class sound and lighting. As concert venues go, this is the place to be. Every seat is a great seat so buy concert tickets now!