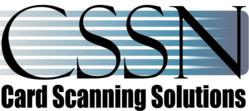 Los Angeles, CA (PRWEB) November 27, 2012
Card Scanning Solutions (CSSN Inc.) is a leading software company specializing in image processing and OCR (Optical Character Recognition) technology. Offering a wide range of both software and hardware solutions, CSSN has contributed extensively to the efficiency and accuracy of processes and procedures in a wide variety of industries. With their advanced OCR technology, CSSN is able to program their software to read printed media and to deliver the extracted data into most existing applications. Their software also provides automatic data export capabilities as well as extensive database capabilities for processing, sorting and archiving. CSSN also offers a vast range of image processing scanners which provide a multipurpose card scanning system for business cards, checks, medical cards, ID cards, driver licenses, photos, legal sized documents and passports. Each scanner brings a unique combination of quality scanning with no external power consumption. The combination of advanced technology and leading hardware devices has enabled CSSN to offer superior scanning solutions to a broad range of customer types.
With their years of experience, CSSN is able to offer valuable and useful tips and suggestions on effective and efficient scanning. In order to ensure the maximum use and benefit of their solutions and OCR technology, CSSN recommends the following:
1. Working with Holograms – With the advancement in technology, most of the latest cards are created with holograms which will affect the accuracy and efficiency of card scanning. The reason for this is that often the hologram obstructs the text that the OCR technology is attempting to decipher and this decreases the accuracy of the scanning outcome. To address this issue, CSSN offers high-level DSP (digital signal processing) algorithms which help filter and clean tarnished images received from an ID scanner, such as driver license images with non-uniform background colors and text that are covered with stamps and holograms. For customers who are utilizing a ScanShell® scanner, CSSN recommends placing the card vertically on the scanner when the user wants to scan the data on the card. This has been found to be more effective in extracting the data accurately despite the interference from the hologram.
If one has not yet purchased or own a ScanShell® scanner and one requires the scanning of hologram cards, CSSN recommends purchasing a SnapShell® OCR ID scanner. This scanner is a better option to consider as it helps ensure greater accuracy in scanning.
Both the SnapShell® and ScanShell® scanners also enable the user to incorporate 2D barcode scanning which can be utilized as a backup to achieve more accurate scanning results.
2. Benefits of Duplex Scanning – Duplex scanning enables the user to scan both sides of a document simultaneously. When combined with Optical Character Recognition technology, the data and the image of the card as well as the 2D barcode information are extracted within a few seconds from both sides of the card simultaneously. Having this information at the user's fingertips helps to boost confidence that the information captured is correct. Efficiency, productivity and accessibility are also increased which gives staff added time to focus on other tasks.
CSSN offers a wide range of cutting-edge hardware duplex scanning devices to match the user's budget and requirements; The Scanshell® 800DX and ScanShell® 3100D. Each scanner offers unique features and quality scanning. For example, the ScanShell® 800DX duplex scanner is an ID scanner which simultaneously scans both sides of a card such as, ID cards, insurance cards and driver licenses. This scanner is lightweight and fully portable making it a convenient solution for both desktop and mobile use. The ScanShell® 800DX is also equipped with a USB 2.0 standard interface and therefore requires no external power supply. This duplex scanner is that it is TWAIN and WIA compatible which makes it the perfect choice for any organization.
3. Use the latest available software from CSSN - CSSN regularly releases new versions of software and each one includes new Software Developers Kit (SDK) features, major and minor enhancements, bug fixes and template enhancements. To ensure that one's software is up-to-date and that one is taking full advantage of the new features and benefits of the latest software, make sure the software is updated regularly. CSSN is currently on Version 9.60.5 and will be releasing another version next month.
4. Calibrates the ScanShell® scanner regularly – If one owns a ScanShell® scanner, it is necessary to calibrate from time to time even if one is not prompted to do so. Calibration cleans up the images and as a result, accuracy is increased.
5. Ask Questions – When it comes to scanning solution advice, CSSN has the answers. If there is anything that one needs assistance with or clarification of, no matter how big or insignificant, ask. CSSN encourages questions and they are available to assist. In this way, CSSN is able to ensure that their users are getting the maximum benefit from their solutions and are operating with optimal results.
Having an efficient and effective scanning solution is a vital part of any industry today and CSSN has been addressing these needs for years. Their scanning solutions go beyond simply scanning a document and their advanced technology enhances efficiency, productivity and accessibility giving staff added time to focus on other tasks. By following CSSN's tips, one is able to gain the maximum benefit from each scanning solution and the result is the fast, accurate and efficient extraction of data giving the user a competitive edge in one's industry.
Additional information on the image processing solutions offered by CSSN, Inc. can be found at http://www.card-reader.com
Since 1999, Card Scanning Solutions (CSSN Inc.) has been a leading developer of card reading and image processing technologies. They are renowned for developing an OCR engine that can read the driver licenses and ID's from all 50 states and over 80 countries. CSSN Inc. offers valuable solutions that significantly increase productivity, save time and money and result in greater efficiency in a wide variety of industries including Medical, Financial, Hospitality, Security and more.