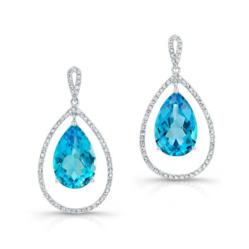 Los Angeles, California (PRWEB) November 28, 2012
American jewelry designer and fashion icon, Natalie K is about to enter the world of wedded bliss. To celebrate this momentous occasion and share Natalie's joy with the world, Natalie K would like to give something beautiful and blue to a lucky winner.
Prize Details:
Handpicked by Natalie K from her unique collection of fine jewelry, Natalie K "Something Blue for the Bride" giveaway is giving away a lovely set of sparkling blue topaz and diamond earrings. The set features two beautifully-cut tear drop shaped blue topaz gemstones dangling inside 14K white gold frames entirely encrusted with ½ carat of fine diamonds.
Whether it's to impress your guests at your Christmas party or giving it away as a Christmas gift for someone special, these earrings will make a lasting impression. Any girl, engaged, married or foot loose and fancy free, will look lovely with this piece of art donning from her ears.
Contest Details:
The "Something Blue for the Bride" contest is open to all United States residents who are 18 years of age or older. Registration for the diamond pendant necklace begins Nov.16, 2012 and ends on Dec. 14, 2012. The Natalie K team will announce the winning entry on Dec. 19, 2012.
To enter for either giveaway during the designated dates, visit Natalie K's Facebook page and click on the sweepstakes app to access the entry form. Fill in all required information then click to submit. Entrants may enter once each day during the contest. Nearest Natalie K dealer to the winner will be used to pick up prize.
Additional Details:
To read the official rules and conditions for Natalie K's "Something Blue for the Bride" giveaway, please visit the Natalie K Facebook page or the contest page available on the official Natalie K website.
About Natalie K:
For more than 30 years, the Natalie K has continued to make an indelible mark on the fashion jewelry industry. Distinguished by fine craftsmanship and attention to detail, each piece of jewelry created by Natalie K designers provides an eye-catching accent for any wardrobe. For more information, call 800-688-6101 or visit http://www.nataliek.com.