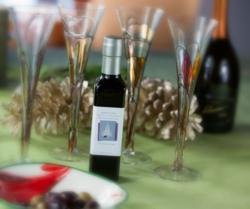 This holiday season, you can send your annual family photo on a beautiful bottle of olive oil or vinegar instead of a card.
Santa Ynez, CA (PRWEB) November 28, 2012
Just in time for holiday gift giving, The Olive Oil Source Boutique today announced exciting graphic enhancements to the Create Your Own Oil and Vinegar Custom Labeled Bottles interactive program now available on their website.
Responding to retail customer requests for even greater variety, The Olive Oil Source has added new label design options to their popular custom label program. With over 30 individual templates ready to customize with personalized messages, the label options now include holiday and New Year's graphics. With personalized product selections and packaging, the simple interactive process allows consumers to choose from a wide array of olive oil and vinegar products to craft personalized gifts for family, friends and business associates with a few clicks of the keyboard.
The simplified order system lets customers place favorite photos from their own digital library onto a wide selection of label designs and add a personalized greeting on both front and back labels. Selecting from many different bottle sizes and styles, filled with popular olive oils and flavored vinegars, shoppers can customize products for any occasion, creating one-of-a-kind gifts, invitations or announcements with no limit on order size from one special bottle to enough for all of your family and friends.
"Finding that perfectly unique gift for friends and family couldn't be easier. This season, you can send your annual holiday greeting or family photo on a beautiful bottle of olive oil or vinegar instead of a card," said Antoinette Addison, Vice President, The Olive Oil Source. "The new customizable label designs marry our best-of-line product selections with a full array of package configurations."
The in-site app can be found at http://boutique.oliveoilsource.com/custom-labeled-bottle.
About The Olive Oil Source
The Olive Oil Source is the most comprehensive olive oil resource for information, trends and products on everything about olive oil. Producers seeking information on the latest commercial equipment, retailers looking to source extra virgin olive oil products, and consumers interested in learning the basics of what is olive oil and the latest information and trends in extra virgin olive oil will find "Everything but the Olive" at The Olive Oil Source.
The Olive Oil Source is owned and operated by Shawn and Antoinette Addison who have graduate education degrees in agricultural sciences and economics from Ecole Nationale d'Agronomie in France and from Stanford University and manage their own organic olive orchard in the Santa Ynez valley of California. They are among a select group of industry experts able to provide customers with information and products based on both current research and field experience. For more information about The Olive Oil Source, visit us at http://www.oliveoilsource.com