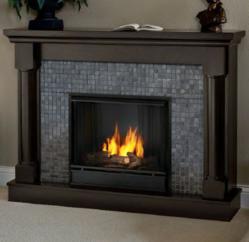 Camas, WA (PRWEB) November 28, 2012
Ventless Fireplace Pros is pleased to announce their new product line of Gel Fuel Fireplaces. These vent free, smokeless and odorless fireplaces are perfect for any room in a home or office. They are available in a wide array of designs, sizes, prices, and configurations for traditional or more contemporary spaces. Gel Fuel Fireplaces are environmentally friendly as they burn an alcohol based gel fuel that meets OSHA and EPA standards. No toxins are released into the air and no forests are being destroyed as with traditional wood burning fireplaces.
It is cost-prohibitive to add the proper flues and venting required for the installation of a traditional wood burning fireplace. Ventless Gel Fuel Fireplaces offer the same ambient luxury, warmth and style without the added costs associated to retrofitting a space for a wood burning stove or fireplace. They are easily installed, and some models are even portable by design to allow the ultimate in flexibility. Manufacturers have designed portable indoor/outdoor models that are easily moved from one space to another whether you desire a fire in your bedroom, on your patio, in your den for a cool evening, or wherever you might desire. For small spaces, corner units, tabletop models and wall fireplace models are ideal solutions.
Gel Fuel Fireplaces work in any space with any interior design aesthetic. They are budget friendly solutions that provide hours of warmth and ambience without the hassle and mess of traditional wood burning fireplaces. Common complaints with wood burning fireplaces include the smell, the ash, and the staining of the smoke. None of these are concerns with the new Gel Fuel Fireplaces on the market today. They burn cleanly with no residue and require no outside venting. Existing fireplaces can easily be converted to gel fuel for individuals who desire a more green solution.
About Ventless Fireplace Pros
Ventless Fireplace Pros offer the finest vent free fireplaces available on the market today. The product line includes electric, gel, biofuel, wall, corner, combination tv and media and tabletop fireplace that require no vents or flues. They are available in a variety of designs, sizes and price points, to fit any décor and budget. These new state-of-the-art fireplaces do not require venting and can be installed in any room of an office or home to add immediate warmth and beauty. Visit http://www.ventlessfireplacepros.com for more information on the new ventless fireplace systems.