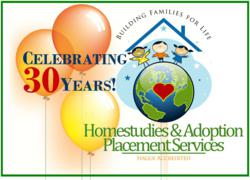 "Adoption is a process, not a single event, involving a lifetime commitment," stresses Lorraine Kolankowski, LCSW, Director of HAPS
Teaneck, NJ (PRWEB) November 27, 2012
It is National Adoption Month – a time to reflect on new families brought together by fate and for the Hague accredited Homestudies & Adoption Placement Services (HAPS) Homestudies & Adoption Placement Services]to celebrate all of the families they have connected for thirty years.
As a grassroots organization founded in 1982, the many smiles, the bittersweet obstacles and the many trips abroad have helped to make their evolving mission a reality. Whether a birth mother seeks assistance and guidance or a family looking to expand, HAPS has the resources and understanding, a nurturing professional staff and the experience to handle the dynamic situations that arise on a daily basis. Since its inception and original foundation built on processing home study services, HAPS has seamlessly evolved to offering Adoption Option Assistance, Pre-Adoption evaluations, Domestic Placement Services (with licenses in NY, NJ and CT), International Placement Programs (China & Russia), and an outstanding Child Waiting Programs with China.
"Adoption is a process, not a single event, involving a lifetime commitment," stresses Lorraine Kolankowski, LCSW, Director of HAPS, "our key message of "Building Families for Life" continues with post placement and post-adoption services involving counseling and group sessions. In addition, the Hague Accreditation we receive complements our ideals, our commitment and our dedication to the services we provide. This month, we have encouraged our families to make birthday wishes on behalf of their families as we honor children every day for the beauty and love they give our families."
Visit our website at haps.org or our Facebook page to interact and see those families we have connected.
About HAPS
Homestudies & adoption Placement Services (HAPS) is a non-profit, NJ/NY licensed, Hague accredited adoption agency that was founded in 1982. HAPS has focused its efforts on developing families for children who need them. HAPS provide services for both international, domestic and special needs adoptions. HAPS has a strong belief in, and commitment to, the development and support of families. For more information, call 201-836-5553, or email us at info(at)haps(dot)org. Main Corporate office located at 668 American Legion Drive, Teaneck, NJ 07666.