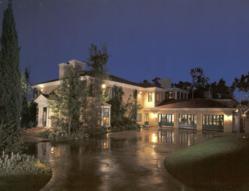 Most of our estate properties sell before they are completed.
Beverly Hills, California (PRWEB) November 28, 2012
SRE Design & Development, a firm known for innovation and investment savvy, has today announced the skyrocketing of the home-flipping business within some of Los Angeles' most luxurious neighborhoods. Home flipping is nothing new, but it generally brings to mind images of boarded up windows and deteriorating homes. This is not so for some of L.A's most luxurious areas.
Los Angeles home sales in the lower price range ($400k and below) have been so heavily targeted by hedge funds that local professionals and savvy investors are setting their sights on the in-demand product of luxury homes. According to Jay Belson, CEO of SRE Design & Development, "Yes, there are many homes in the multimillion dollar range in Los Angeles, but very few of them are spectacular. A newly remodeled estate is a hot product and that's why our investors are getting in the luxury game."
Recent research uncovered these high-end flipping examples:
A traditional-style house in Bel-Air where Judy Garland lived growing up sold last year for $5.2 million. With a Level 1 upgrade, the repositioned home resold 14 months later for $6.77 million.
Actor Dennis Quaid sold his Pacific Palisades estate in late 2011 for $9.5 million. The 2.5-acre equestrian property, with its newly renovated country French main house, went for $11.2 million in September.
Luxury house flipping is particularly active in the Bird Streets area of the Hollywood Hills, a coveted neighborhood with jet liner views and access to "The Sunset Strip" popular with celebrities and tech titans for whom money is no object.
Parts of Beverly Hills and West Hollywood also are seeing their share of tricked-out remodels returning to the market.
One of the key benefits for investors considering luxury home flipping is the distinct lack of luxury remodels built from 2007 through 2012. Belson states, "When the market started its slide toward the bottom in '07, the high-end builders wrapped their current projects and stepped back. Five years later, we can really feel their absence and now is the time to come on strong."
However, this is not a buy-and-hold scenario, nor does it bear much resemblance to conservative hedge fund approaches either. Belson indicates that investors should expect a 12-18 month window per project, and it is not a proposition suited for investors stuck on the "quick flip". Nevertheless, for investors with an appetite for luxury and terrific returns, it can offer tremendous benefits.
Jay Belson adds, "Most of our estate properties sell before they are completed. Our investors enjoy the lucrative returns on the high-end deal – the competition to lock down these premier properties is fierce. Exceptional product is a rarity and buyers will pay top dollar for it."
To find out more about SRE Design & Development and the availability of rehabbed luxury homes prime for investing, visit http://www.SREDesignDevelopment.com
About SRE Design & Development: Headquartered in Beverly Hills, SRE Design & Development specializes in the development of ultra-luxurious estates. Clients are able to participate as owners, lenders or partners in investments.