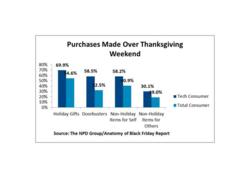 "It is no surprise that self-gifting is growing in technology, as sales of formerly highly gifted items like point-and-shoot cameras, GPS navigation systems, and MP3 player sales rapidly decline," said Stephen Baker, Vice President of Industry Analysis
Port Washington, New York (PRWEB) November 27, 2012
This year, more than the past two, consumers who bought tech products over the Black Friday period were 50 percent more likely than the overall shopping population to buy for themselves, according to leading market research company The NPD Group's Anatomy of Black Friday Report.
"It is no surprise that self-gifting is growing in technology, as sales of formerly highly gifted items like point-and-shoot cameras, GPS navigation systems, and MP3 player sales rapidly decline," said Stephen Baker, Vice President of Industry Analysis at NPD. "Consumers were looking for the best deals on big-ticket items that can be enjoyed by their families."
According to the report, tech buyers were 80 percent more likely to purchase Doorbusters this year than they were last year, and almost twice as many tech consumers made Doorbuster purchases than the overall consumer base.
Tech consumers also do a lot of research ahead of making their purchase, and they continue that research while they are in the stores. Forty-four percent of tech purchasers did research on their potential purchases while they were shopping on Black Friday versus only 24 percent of all shoppers. And 76 percent of tech buyers, a number on par with the last two years, did their buying research before they ventured out over the holiday weekend compared to 58 percent of overall consumers.
"With the increased attention on more expensive products that are more likely to be household items, such large screen TVs and tablets, it's not surprising that research activity is on the rise both before the sale and during the shopping activity itself," said Baker. "The easy availability of shopping apps, pricing comparison sites, and product reviews on a consumer's smartphone makes this a simple activity to accomplish for most consumers."
The consumers who planned ahead also spent more, up to two times more than those who didn't plan in advance. Among the Tech consumers who went shopping on Black Friday, 37 percent said they did so because they saw an item they wanted on sale and 34 percent said they went out because they saw a particular retailer was having a big sale.
To read more about shopping activity over the weekend, head over to The NPD Group Blog.
About The NPD Group, Inc.
The NPD Group is the leading provider of reliable and comprehensive consumer and retail information for a wide range of industries. Today, more than 2,000 manufacturers, retailers, and service companies rely on NPD to help them drive critical business decisions at the global, national, and local market levels. NPD helps our clients to identify new business opportunities and guide product development, marketing, sales, merchandising, and other functions. Information is available for the following industry sectors: automotive, beauty, entertainment, fashion, food, home and office, sports, technology, toys, video games, and wireless. For more information, contact us or visit npd.com and http://www.npdgroupblog.com. Follow us on Twitter: @npdtech and @npdgroup.
FOR MORE INFORMATION:
Sarah Bogaty
+1 516 625 2357
sarah.bogaty@npd.com