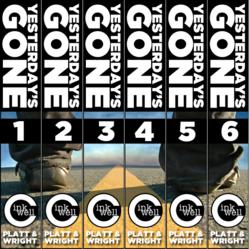 One word: Wow! We always knew we had a great idea with Yesterday's Gone, but only in our wildest dreams did it blow up this big.
Cincinnati, OH (PRWEB) November 27, 2012
One of Amazon's highest rated Kindle ebooks is available to download free, starting today. All six episodes from the first season of acclaimed post-apocalyptic serial thriller Yesterday's Gone can be downloaded at no cost until November 28.
The novel-length season from indie publishers Collective Inkwell, usually priced $5.99, can be downloaded to read on a Kindle, web browser, or Amazon's Kindle app.
With over 180 five star reviews, and an average review of 4.7 out of five, Yesterday's Gone Season One, by Sean Platt and David Wright, is one of the best rated books available for the Kindle.
First launched in July 2011, with an episode released every week, Yesterday's Gone quickly grew a loyal readership who eagerly awaited each new episode.
"What can I say to the reception Yesterday's Gone has had from readers?" Platt said when asked about the success of the series. "One word: Wow! We always knew we had a great idea with Yesterday's Gone, but only in our wildest dreams did it blow up this big."
In a dramatic twist, Platt and Wright, the pioneers of serialized fiction for the Kindle, were recently signed by Amazon's publishing arm, 47North, to write two new serialized novels, Z 2134 and Monstrous.
"With Amazon Serials now live, serialized fiction is generating a lot of buzz." Platt said. "It feels great to be right in the middle of it all."
Featuring a cliffhanger at the end of every episode, the novel is a tense and nerve-wracking read.
"I always loved watching TV shows with a cliffhanger ending as a kid," said David Wright, co-author. "Waiting a whole week to find out what happens to the hero is both painful and exciting - a bittersweet satisfaction. That's one of my favorite feelings"
Wright added: "Serialized fiction is nearly as old as the novel itself, but TV upped the game and added a modern twist. With Yesterday's Gone, we aimed to repackage the punch of TV cliffhangers back into fiction."
In the most recent review, published November 25, Anthony White wrote of Yesterday's Gone Season One: "I loved this story and had the 'could not put it down experience' that I have always heard people talk about."
Three seasons of Yesterday's Gone, totally 18 episodes, have launched so far. Fans of the series are eagerly awaiting the fourth season. Episode 19 will launch summer 2013.