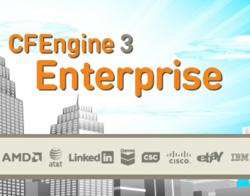 At CFEngine, our mission is to help people manage a world of smart infrastructure
LAS VEGAS, NV (PRWEB) November 27, 2012
CFEngine Inc., provider of the world's leading open source configuration management software, today announced that it will demonstrate new Cloud automation capabilities at AWS re:Invent, Amazon Web Services' first global customer and partner conference. With CFEngine it now is easy to automate provisioning, configuring and managing a range of AWS services, including EC2, S3 and SimpleDB.
"Amazon Web Services are widely used to deploy enterprise application workloads, which creates a growing need for enterprise-class configuration management," says Mark de Visser, CMO at CFEngine Inc. "CFEngine not only makes it easy to provision AWS infrastructure, it will also maintain it in correct state in real-time, scale it out and back based on policies, and report on its actual state for control and compliance auditing. With CFEngine, companies can benefit from the flexibility and cost benefits of AWS without compromising security and control over their IT infrastructure."
The AWS support is delivered as part of CFEngine Design Center's Cloud::Services "sketch", a template for CFEngine policies for Cloud infrastructure. It requires CFEngine Community Edition version 3.4. It is freely available for download (see: cfengine.com/cfengine-design-center).
CFEngine Community Edition, version 3.4
At AWS re:Invent, CFEngine is introducing a new version of CFEngine Community Edition, its popular open source configuration management software. Current versions of this product are used by over 10,000 companies, managing IT Infrastructures scaling up to hundreds of thousands of servers. CFEngine 3.4 adds many new capabilities that have been requested by users and which – with CFEngine Design Center – makes it easier than ever to automate provisioning, configuring and managing of large scale IT infrastructure.
Among the new features in CFEngine Community 3.4 are:

XML-editing. XPath-based selection and editing, enabling deployment and management of configurations of many additional application workloads with ease and precision.
Dependency management. Express dependencies among promises within a policy, enabling orchestration of services and application stacks.
Namespaces. Restricting the scope of language constructs, making it easier to apply multiple policies to shared resources.
Many more. For a complete description of CFEngine 3.4, see the release notes at cfengine.com/community/3.4.0
CFEngine Design Center, version 3.4
Design Center is a service for CFEngine community members and developers to share tools, code and information. At AWS re:Invent, along with the release of CFEngine Community 3.4, CFEngine updates Design Center to version 3.4. Leveraging the new features of CFEngine Community, it enables very efficient automation of common IT-operation tasks.
In Las Vegas, CFEngine will demonstrate how Design Center makes it easy to automate the management of AWS Cloud infrastructure, including EC2, S3 and SimpleDB.
About CFEngine
At CFEngine, our mission is to help people manage a world of smart infrastructure. We enable CFEngine users to become agents of change and innovation, and not have to constantly fight IT bottlenecks and outages. Our lightweight and de-centralized architecture lets engineers build and manage IT systems of any scale and complexity. Our continuous configuration ensures that IT systems do not drift and are always maintained at - or converging to - their desired state. For more information, please visit us at cfengine.com.