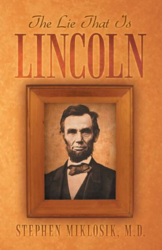 The Lie That Is Lincoln delves into the common misconception that Lincoln was a secular saint, exposing an unvarnished look at the man
Columbus, OH (PRWEB) November 28, 2012
Dr. Stephen Miklosik offers his critical review of Abraham Lincoln in his latest book, The Lie That Is Lincoln.
Born and raised in Canada, Miklosik refers to his dispassionate view of Abraham Lincoln and the president's role in the Civil War. He claims to cover a story not often taught in classrooms.
Emphasizing the philosophical primacy of individual freedom, Miklosik argues the attack on the South to be unfair as they sought to secede from the North, much like America did from England and Texas did from Mexico.
"In all my years of reading about Abraham Lincoln, I have never heard a negative or derogatory word against this man. Without exception, all the accounts on Lincoln's life, from beginning to end, have been nothing but laudatory," says Miklosik. "The Lie That Is Lincoln delves into the common misconception that Lincoln was a secular saint, exposing an unvarnished look at the man," Miklosik says.
Discussing his research on the topic of Abraham Lincoln, the historical impact of Harriet Beecher Stowe, primacy of the Declaration of Independence and the failure of leadership to avoid battle, Miklosik argues his research in The Lie That Is Lincoln – shattering the pristine image of one of the nation's most respected leaders.
The Lie That Is Lincoln
By Stephen Miklosik
ISBN: 978-1-46915-640-8
Available at Amazon, Barnes & Noble, and Xlibris online bookstore.
About the author:
Born of Slovak immigrants in Canada and now a naturalized American of more than 40 years, Stephen Miklosik, M.D., is a graduate of the University of Toronto. He is a retired anesthesiologist and amateur historian living in Columbus, Ohio, with his wife, Mary Anne, and family of seven children and 19 grandchildren.