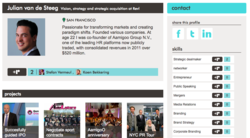 San Francisco, CA (PRWEB) November 27, 2012
REVL, a totally unique online career platform that will forever change the way people are discovered for jobs has launched today with full functionality. With REVL, jobs come to the job seeker based on their user profile which brings to life their hard and soft skills, experiences, talents, and achievements and helps them stand out from the crowd. With over 7 million available jobs at their disposal from strategic job board partnerships, jobs are matched to a person's interests, abilities and experience.
Developed for a wide range of users, REVL is here to help the student entering the job market for the first time, the homemaker re-entering the job market, the returning veteran and the career changer. What makes REVL unique is the ability to create a rich online profile that shows a more complete view of the person than a traditional resume. The job seeker can showcase their hard and soft skills, upload videos, even pitch themselves to prospective employers, add photos and projects to demonstrate abilities and interests, connect to their social networks and also get endorsements from others. The endorsements provide an opportunity to have customized recommendations from colleagues.
Once the profile is completed, REVL rolls up their sleeves and gets to work. Instead of job hunters spending endless hours on job boards trying to find the right job, jobs come to them. Imagine getting up in the morning, turning on your computer and finding on the REVL website a host of job opportunities just waiting for you! Free to the job seeker, REVL is a greatly needed service for the millions of unemployed college graduates and students, 750K returning veterans and those hundreds of thousands of individuals re-entering the job market due to decreased family income or crisis.
Founded by Julian van de Steeg, a founder of the AamigoO Group, a publicly traded HR company based in the Netherlands, REVL is a completely seamless experience for anyone looking for their next job. Online education courses and Internet based applications will be offered in the beginning of 2013 to enable job seekers to acquire added value to their credentials and achieve their ultimate professional goals.
The REVL profile is dynamic and really shows the individual from a 360 degree perspective. It will be significantly influential in reducing the 3 million jobs that are left unfilled in America each day. Recently appointed CEO Dennis Albinus, Europe's visionary Human Resource Technologist and inventor of the gold standard CPC model for HR in Europe, states, "I began working with REVL to really help people get their next job. People are having a hard time finding work and I want to make a difference. REVL is that difference."