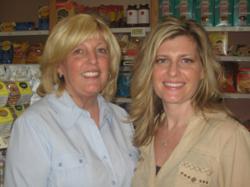 What is essential is that a combination of natural supplements, sound nutritional choices and necessary lifestyle changes be implemented in order to achieve the greatest relief from adrenal fatigue
Orland Park, IL (PRWEB) November 27, 2012
New Vitality Health Foods, Inc. expands its selection of herbs and supplements and offers a natural approach in treating adrenal fatigue and the negative effects it has on the body. New Vitality Health Foods, Inc., line of supplements, therapeutic adrenal blends, and herbs combined with its experienced staff make it a valuable resource for its customers who have adrenal fatigue.
Barbara Griffin, NMD, CNC, Certified Gluten Practitioner and owner of New Vitality Health Foods, Inc. began, "With stress, the body's adrenal glands rally the body into a fight or flight survival response by increasing adrenaline and cortisol production. No matter what the cause of the stress, the body sees it as an emergency. Chronic over secretion of cortisol leads to adrenal exhaustion, which accelerates the downward spiral towards chronic poor health. Once in adrenal exhaustion, the body can't release enough cortisol to keep up with the daily demands. Adrenal imbalance is a factor in many serious conditions, including hypothyroidism, chronic fatigue syndrome, depression, fibromyalgia and more."
Adrenal drain can deplete the whole body. As the adrenals encounter continued stress without replenishment, the body slowly feels the affects because of the many roles the adrenal glands play. The adrenal glands:

help regulate blood pressure and heart beat regularity;
help balance blood sugar levels;
help control inflammation throughout the body and support the nervous system function (behavior, mood, excitability and memory) and
balance more than 50 hormones in the body.
Diana Sourek, MS, CNC, Certified Gluten Practitioner, and manager of New Vitality Health Food, Inc. shared, "One of the properties adrenal fatigue may respond favorably to the use of adaptogenic herbs. An adaptogenic herb helps the body to normalize after times of stress. It decreases hormone secretions when levels are too high, and increases hormones when levels are too low. A few of these herbs, like ginseng and echinacea, have become known to the general public. But there are plenty of other adaptogenic herbs to choose from which we offer at New Vitality Health Foods, Inc. They can be used in many forms, for instance in capsules, tinctures, powders, drunk in tea or mixed with foods, in a compound with other herbs or standing alone."
Several vitamins, such as the B vitamins are especially beneficial when addressing adrenal fatigue. High-quality vitamins, minerals and essential fatty acids help support a healthy metabolism and hormonal balance, which contributes to adrenal health. Specific lifestyle changes such as getting more rest helps to heal the body. Additional reducing refined carbohydrates, such as sugar, white flour, potatoes and white rice help to prevent fluctuations in blood sugar which in turn can lead to adrenal imbalance. The goal is to achieve more stable energy levels throughout the day, which can be accomplished by eating three balanced meals with two snacks.
"Depending on a person's symptoms, they may need a remedy that helps provide more energy, one that helps prepare for sound sleep, or a little of both. What is essential is that a combination of natural supplements, sound nutritional choices and necessary lifestyle changes be implemented in order to achieve the greatest relief from adrenal fatigue," stressed Sourek.
Sourek shared that there are a number of self-test methods that will help someone identify if they could have signs of adrenal fatigue. These tests include:
Orthostatic Blood Pressure: If your blood pressure drops when you stand up from a lying position, this almost always indicates low adrenals. This can be measured with a blood pressure gauge (a sphygmomanometer), which you can buy at a drug store. Make sure to purchase the type that doesn't require a stethoscope to take your blood pressure. Make sure to do this test when you are well hydrated or it could give you a false positive. Lie down quietly for about 10 minutes, and then take your blood pressure (while still lying down). Then stand up and measure your blood pressure immediately upon standing. Normally blood pressure will rise 10-20mmHg from standing up. If your blood pressure drops, you likely have adrenal fatigue. The more severe the drop, the more severe the adrenal fatigue.
Iris Contractions Test: In a darkened room, sit in a chair in front of a mirror. Holding the flashlight at the side of your head, shine it across one eye (not into the eye). Watch what happens in the mirror. You should see your pupil contract immediately after the light hits the eye. The pupil will normally stay contracted, but if you have adrenal fatigue, the pupil won't be able to hold its contraction and will dilate. This dilation will take place within 2 minutes and last for about 30-45 seconds before it contracts again. Time how long the dilation lasts and record it along with the date. Retest monthly as it serves as an indicator of recovery.
Sergent's Adrenal White Line: With your fingernail or the dull end of a spoon, draw a line across your belly. In moderate to severe cases of adrenal fatigue, the line will stay white, and even get wider over the course of time, while a "normal" reaction would be for the line to almost immediately turn red. This test has historically been used to indicate severe adrenal fatigue and Addison's disease, milder cases of adrenal fatigue may not exhibit this sign.
Florine Sonneveld, Assistant manager, New Vitality Health Foods, Inc., concluded, "There has definitely been an increase of our customers who come into the store looking for relief from the symptoms of adrenal fatigue. The holiday season historically brings with it a mix of joy and overwhelming stress. With the variety of high-quality products we have at New Vitality Health Foods, Inc., we are ready to help assist our customers in finding the appropriate relief via safe, natural means."
New Vitality Health Foods, Inc. recommends their customers consult with their physician before starting any new supplement or herbal product.
About New Vitality Health Foods, Inc.:
New Vitality Health Foods, Inc. provides Chicagolands' largest selection of allergy-free foods that have met their high standards for taste, quality, and nutrition. New allergy-free foods are introduced weekly. They also carry frozen foods, vitamins, herbs, homeopathic, aromatherapy, books, body care, pet care, household item and much more. New Vitality features only the highest quality, effective nutritional supplements to support our customers' total health. New Vitality Health Foods, Inc. is located at 9177 West 151st St., Orland Park, Il 6062. (708) 403-0120 http://www.newvitalityhealthfoods.com.