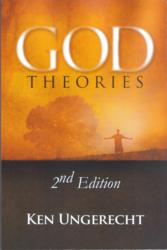 I believe there are important spiritual truths that can be found in every religion and in many bodies of thought outside of religion as well, such as principles from science and the natural world
Baltimore, MD (PRWEB) November 28, 2012
With the black and white rules of scientific and religious theories, is it possible for the two powers of reason to blend and coexist?
Ken Ungerecht believes that they not only are able to coexist, but they even support each other's founding principles.
In his latest book, God Theories, Ungerecht presents the two schools of thought working in congruence. He explores several spiritually and scientifically supported ideas including a fourth, alternative view on the origin of life.
"I believe there are important spiritual truths that can be found in every religion and in many bodies of thought outside of religion as well, such as principles from science and the natural world," says Ungerecht.
God Theories portrays spirituality as an important aspect of the human condition and a collection of many viewpoints and belief systems. Evaluating the facts and theories from his study of religions, metaphysics, agnosticism, atheism, and various other philosophies, Ungerecht conveys religion and science in a supportive association rather than operating from separate lines of thought.
God Theories
Let's Talk
By Ken Ungerecht
ISBN: 978-1-4535-4417-4
Available at Amazon, Barnes and Noble, and Xlibris online bookstores.
About the author:
A former high school biology, chemistry, and physics teacher, Ken Ungerecht is currently an engineer and training representative in the field of electronic communications. Now living in Baltimore, Unegerecht continues to pursue his passion for research and spiritual understanding.
Learn more about Ken at http://www.godtheories.com
###
**FOR IMMEDIATE RELEASE**
EDITORS: For review copies or interview requests, contact:
Publicist: Dassie Rice
drice(at)bohlsengroup(dot)com | 317.602.7137
(When requesting a review copy, please provide a street address.)