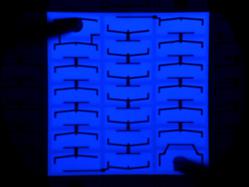 Cypress, California (PRWEB) November 27, 2012
Seoul Semiconductor has announced its full family of Acrich MJT (multi-junction technology) LEDs enabling solid state lighting designers the option of selecting from a wide range of operating voltages between 13 and 55 volts in a variety of industry-standard packages. Acrich MJT technology is unique in that the LED junctions reside in a single chip enabling higher light density and smaller packaging options and in turn lower system level costs. The higher voltages also mean the devices can be matched more closely to supply or line voltages which means less expensive and more efficient LED driver designs.
Unlike conventional methods of LED manufacture that require complicated circuitry and packaging to connect multiple LED chips, the Acrich MJT series is manufactured as a single semiconductor chip. This enables smaller packaging, increased reliability, and lower costs while maintaining industry leading performance of 100 lm/watt at the fixture level.
The Acrich MJT series is available in industry standard packages such as 5630 and 3528 and the full range of ANSI color bins. Voltages include 13, 19, 22, 32 and 55 volts which match a wide range of general illumination applications such as A19 and PAR replacement lamps, LED downlights and flushmounts as well as industrial troffers and low bay fixtures. Light output levels range from 30 to 130 lumens.
Seoul Semiconductor – About Us:
Seoul Semiconductor manufacturers and packages a wide selection of light emitting diodes (LEDs) for the automotive, general illumination/lighting, appliance, signage and back lighting markets. The company is the world's fifth largest LED supplier, holding more than 10,000 patents globally, while offering a wide range of LED technology and production capacity in areas such as "nPola", deep UV LEDs, and "Acrich", the world's first commercially produced AC LED.
The company's broad product portfolio includes a wide array of package and device choices such as AC driven LEDs, high-brightness LEDs, mid-power LEDs, surface mount LEDs, through-hole type LED lamps, custom displays, and sensors.
The company is vertically integrated from epitaxial growth and chip manufacture in it's fully owned subsidiary, Seoul Optodevice, through packaged LEDs and LED modules in three Seoul Semiconductor manufacturing facilities. Seoul Optodevice also manufactures a wide range of unique deep-UV wavelength devices. The packaged LEDs and LED modules are available in North America through Avnet Electronics, Digi-Key Corporation and Mouser Electronics.