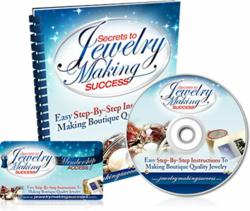 The DVD is packed full of resourceful information that can help any individuals make their own jewelry
Oceanside, CA, (PRWEB) November 27, 2012
There are many individuals throughout the world that have stepped in and started to make their own jewelry. Many of those individuals sell the jewelry they make on the Internet. Then, you have others who wish they could make their own jewelry, but they do not know exactly where to get started. That is where Jewelry Making Success comes into play. http://jewelrymakingsuccess.com/ is a site that is devoted to showing individuals just how fun, easy and exciting making jewelry can be.
These easy step-by-step jewelry making instructions can show how to make chandelier earrings, how to make beaded bracelets, how to make drop earrings, how to make charm bracelets, how to make dangle earrings, how to wire wrap a pendent and much more.
They also have Jewelry making dvd's, which individuals can purchase. The DVD is packed full of resourceful information that can help any individuals make their own jewelry. It is a two set DVD that tells individuals how to make 25 different types of jewelry. The video is over 4.5 hours long and has high quality videos on making various types of jewelry from scratch to finish. Individuals will learn how to properly use crimp beads, how to make their closing clasps look professional, what type of material they need to use, what gauge of wire to use, proper jewelry length and more.
There are various positive testimonials posted on the Internet. Many individuals state that the DVD's are easy to follow and understand. Viewers will be amazed at how fun and easy it is to make their own gorgeous, yet unique pieces of jewelry.
When the individual makes the jewelry, they can wear it, give it to loved ones as gifts and even sell it.
About Jewelry Making Success
Jewelry making success is a website that is dedicated to teaching individuals how to make their own unique jewelry. They offer 2 DVDs and a downloadable e-manual consisting of various ways to make jewelry. The DVDs are 4.5 hours long.