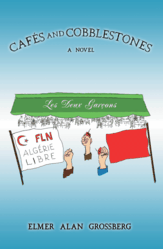 (The book) explores the intricacies of colonialism, clashing cultures, and the post-war moral and spiritual adjustments of the 1950s.
INDIANAPOLIS —
(PRWEB) November 28, 2012 -- An apolitical, broke WWII G.I. veteran and writer ends up in Aix-en-Provence during the Algerian war of liberation. In this new love story, Jim Jarvis finds himself writing propaganda for a leftist publisher, in accordance with his own liberal, pro-Algeria sentiments.
Cafes and Cobblestones explores the intricacies of colonialism, clashing cultures, and the post-war moral and spiritual adjustments of the 1950s. Drawn to a stunning French-Algerian woman and a charismatic English-speaking Saudi, Jim embraces both the Left and Islam before realizing that each of the two allies demands his devotion and he must choose between them. His disillusionment with what he perceives as a collapse of Western values and religious faith move him to prefer Islam as the force more likely to prevail. More, he is attracted to jihad and even to martyrdom, but ends up having to choose between the house of peace and the house of war. In an unplanned turn of events, his choice, the disappointment of his Saudi mentor, and her relationship with Jim leads to his fiancée paying a heavy price for her beauty and Western life-style.
Author Elmer Alan Grossberg began writing at an early age, publishing a short story in Esquire magazine and in the annual O. Henry Prize Stories collection when he was 16. He served in the Navy and published the novel "Farewell, My Son", which he rewrote and republished under the title "The Endless Refrain." He published the award-winning "Zudd, or No Bargain in Debasement" in 2008. After living in Europe and spending 10 years on the road in a motorhome, the Brooklyn native now lives on the West Coast.
----------
For additional information, please visit http://www.cafesandcobblestones.com.
Cafes and Cobblestones
Elmer Alan Grossberg
Dog Ear Publishing
ISBN: 978-1-4575-0975-9 276 pages $12.99 US
Available at Ingram, Amazon.com, Barnes & Noble and fine bookstores everywhere.
About Dog Ear Publishing, LLC
Dog Ear Publishing offers completely customized self-publishing services for independent authors. We provide cost-effective, fast, and highly profitable services to publish and distribute independently published books. Our book publishing and distribution services reach worldwide. Dog Ear authors retain all rights and complete creative control throughout the entire self-publishing process. Self-publishing services are available globally at http://www.dogearpublishing.net
and from our offices in Indianapolis.
Dog Ear Publishing – self-publishing that actually makes sense.