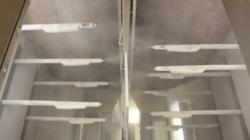 The infrareds allow the powder to flow more smoothly over the part, giving the finished product a smoother finish said Craig Martin, BTD's president.
Brainerd, MN (PRWEB) November 27, 2012
BTD Wood Powder Coating specializes in powder coated MDF and is always seeking ways to further improve the quality of its finishes. In the past year new hires, research and development, and plant upgrades have all played a part in enhancing the finished product. This month, BTD announced the purchase of a new infrared system that promises to keep BTD at the forefront with the most advanced wood powder coating plant in North America.
BTD Wood Powder Coating (http://www.btdwoodpowdercoating.com) has made strategic hires and invested in R&D to broaden the array of powder coated MDF finish options while further improving the quality of the finish itself. Now, BTD continues its investment process by upgrading its plant with a new infrared system.
The wood powder coating process begins with a raw sheet of MDF. The raw sheet is then cut to shape and sanded smooth so it will accept the powder finish. Once sanded, the board is preheated to a consistent temperature that will encourage the electrostatic charge required for adhesion. After spraying the MDF part with powder, it is cured and cooled, resulting in a seamless finish.
Infrared emitters have been employed in wood powder coating lines in the past to speed up the preheating process or to encourage a consistent surface temperature on all sides of the MDF part. BTD has employed infrared for many years, but recently decided to upgrade its system. The new custom system is simultaneously more powerful and more energy efficient. Advancements in technology allow the emitters to be more powerful in the same footprint, and more sophisticated sensors ensure the emitter is only firing when a part is within its range. The end result is a powder coating line with more precise controls and more cost-effective operation.
Craig Martin, BTD's president, elaborated on the reasoning for this upgrade to the powder line. "Based on a number of specific desires, we made the decision to upgrade our infrared system. First of all, we know our customers appreciate our consistent, quality finish. The infrareds help reduce defects--before they even make it to quality inspection--by cutting down on outgassing and ensuring an even more consistent surface temperature. Secondly, the infrareds allow the powder to flow more smoothly over the part, giving the finished product a smoother finish. Finally, the new system will allow for even crisper, tighter edges that are difficult or impossible to accomplish with other wood finishing techniques."
The infrared upgrades occur while BTD is in the midst of a major investment campaign. The campaign includes plant upgrades, new hires, and R&D expenditures; the goal is to further improve consistency and quality while introducing finishes never before possible with powder coated MDF.
BTD Wood Powder Coating, Inc. is a full service wood powder coating company based in Brainerd, MN. The company specializes in interior furnishings for such industries as office and healthcare furniture, point of purchase displays, and many other applications requiring a durable and high quality finish. BTD manufactures all of its products at its advanced factory in Brainerd, and recently received an FSC Chain of Custody certification.