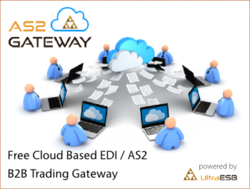 Greatly simplifies setting up of typical AS2 trading relationships
Singapore (PRWEB) November 27, 2012
AdroitLogic, developer of the Open Source Enterprise Service Bus (ESB) UltraESB, today announced that it had published a screencast on using its AS2Gateway, a free AS2 trading gateway hosted as a service for B2B integration. Ruwan Linton, the Director of Engineering of AdroitLogic introduces the AS2Gateway from the perspective of a new user signing up to use the service, to configuring trading stations and partners, and exchanging business documents over the AS2 protocol with other trading partners.
The screencast is published at http://youtu.be/RkYWf5iJ7mY over the AdroitLogic YouTube channel http://www.youtube.com/adroitlogic
The AS2Gateway currently in beta, greatly simplifies setting up of typical AS2 trading relationships by hiding the complexities of the AS2 configuration, behind an intuitive user interface and sensible defaults. For example it allows typical AS2 configuration information to be easily emailed to other trading partners from within its interface, or to setup encryption and signature key stores automatically without having to use external certificate authorities or tools. It also removes the need to provision dedicated hardware, software and other resources to manage the AS2 trading platform; and offers a free tier to SMEs to use the trading gateway free of charge.
The free and open source UltraESB powers the AS2Gateway, and is the only ESB in its category to support the AS2 protocol natively. AdroitLogic offers the AS2Gateway itself as a separate product, allowing large enterprises to manage interactions with multiple AS2 trading partners easily. The complete suite includes an S/FTP Gateway, message auditing and simpler integration with external trading partners via a graphical user interface.
AS2 (Applicability Statement 2) is the leading industry standard protocol for the secure exchange of business documents between trading partners over the Internet. Electronic Document Interchange (EDI) messages such as those based on the ANSI X12 (US) and UN/EDIFACT (Europe, Asia) formats are exchanged electronically between trading partners in efforts to automate B2B trading using the Internet as an interconnection medium over expensive and older Value Added Network (VAN) technologies. AS2 software has often been expensive to license, and maintain, and limited in features to support EDI translations, and integration with other systems.
About AdroitLogic
AdroitLogic Private Ltd. founded in January 2010, is a privately held innovative technology company based in Singapore, that believes in, and proves, that better design and clever code yields much better software. AdroitLogic is driven by an exceptional team of integration experts with many years of ESB development and support experience, and backed by the dedication and commitment of its founders, who are personally involved with the design, development and support of its products