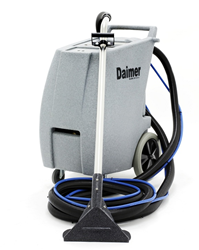 Daimer® is excited to offer powerful carpet cleaning machines empowered with the latest technologies, 220 psi, and up to 210ºF, to help auto detailing professionals clean car interiors in a fraction of the time many clean now.
Woburn, MA (PRWEB) November 27, 2012
Daimer Industries, Inc.®, the most recognized American brand of technologically superior car wash equipment and other outstanding cleaning technologies, including carpet cleaner machines, commercial carpet extractor systems, industrial truck mount carpet cleaning equipment and other models totaling over 600 shipped to over 200 countries, is offering its XTreme Power® XPH-9300U carpet upholstery steam cleaner. The equipment is one of the industry's most powerful carpet cleaning machines designed to manage the maintenance of vehicle interiors. Daimer® ships thousands of car detailing machines of different types to those in the auto detailing business as well as car dealers globally.
Daimer® is committed to helping do its part in helping the U.S. economy as well as American workers. Everyone working for the company is a U.S. citizen, and Daimer® is on a record pace to achieve its highest sales levels for both domestic sales and international exports.
"One of the most important aspects of retaining the value of a car involves maintaining its appearance both on the outside and inside. A well-maintained car also gets its owner a better deal while trading it in," says Matthew Baratta, spokesman of Daimer Industries, Inc.®. "Daimer® is excited to offer powerful carpet cleaning machines empowered with the latest technologies, 220 psi, and up to 210ºF, to help auto detailing professionals clean car interiors in a fraction of the time many clean now."
Daimer®'s XTreme Power® XPH-9300U offers the benefits of industrial steam carpet cleaners and professional commercial carpet extractor machines with its advanced cleaning functions and strong water column lift for maximum suction and lower drying times. Adjustable temperature controls enable users to set the right temperature, depending upon the operator's preferences. Although the XTreme Power® XPH-9300U is not considered a member of Daimer®'s truck mount carpet cleaners line, it scores high in terms of durability, mobility, power, and ease of operation.
Many car washing experts prefer professional commercial carpet cleaners that offer superior cleaning results, demand minimum effort levels, and guarantee fastest drying periods. Most detailing professionals like higher temperatures generated by carpet steam cleaners to considerably enhance cleaning results and make tough deposits easier to eliminate.
The XTreme Power® XPH-9300U carpet steam cleaners generate temperatures as high as 210ºF to quickly and effectively soften stubborn deposits and spills on car carpets, seats, upholstery, and fabrics. The two inline heating elements within the carpet extractor help heat water to high temperatures within merely five minutes. The 17 gallon solution tank and 15 gallon recovery tank have been designed to help cleaning professionals continue working non-stop for extended time periods. The system's features make it excellent for mobile car wash use.
Daimer®'s XPH-9300U is also an ideal option to maintain carpets, furniture and upholstery in residences, offices, and any other facility. The machine is even excellent to clean the surfaces of vertical office furniture and cubicles. Pressure levels of 220 psi and the powerful 150 inch water column lift capacity created by the double two-stage motors simplifies extraction of residue and water from surfaces. The low flow cleaning technology reduces the drying period of upholstery to as low as one hour by transferring less water onto the surface.
The durable and rugged construction, high-grade components, adjustable temperature settings, cutting-edge technologies and minimal drying period make carpet cleaners such as the XTreme Power® XPH-9300U the perfect choice for car detailers, upholstery cleaning professionals, commercial furniture cleaning experts, and used furniture businesses.
Natural fibers, such as wool, should never be cleaned using heat, since excessively high temperatures can shrink the carpet or otherwise damage it. The user can simply not enable the heat switches to safely clean non-synthetic carpeting.
For best results, the professionals recommend pre-spraying carpets with soap-free, biodegradable carpet cleaning liquid. Daimer® bundles carpet cleaners with its Eco-Green® Carpet Care & Upholstery Cleaner, enough to make up to 256 quart spray bottles worth. The pre-sprayed solution will be extracted immediately, further reducing drying time, and allowing surfaces to remain cleaner for longer periods of time. Customer satisfaction will be maximized.
To enable auto detailing professionals reach the most inaccessible spots and tight spaces, commercial carpet cleaners like the XTreme Power® XPH-9300U come with a collection of attachments and accessories. While the 25' vacuum hose and 25' solution hose make it possible to clean without concerns about the ability to reach within any vehicle, the upholstery wand ensures efficient maintenance of car upholstery.
An optional, patented, three foot carpet wand with Daimer®'s patented XTreme-Xtraction® technology, including its self-adjusting 12" head, is available at an option for those seeking to clean regular floor carpets. Moreover, the exclusive wand technology increases the suction power by 60%. The wand is also available with the company's industrial grade truck mount carpet cleaning equipment .
For Additional Information:
Learn more about the XTreme Power® XPH-9300U by either calling Matthew Baratta at (888) 507-2220 or visiting the company's website http://www.daimer.com . Machines are exported to most countries worldwide.
About Daimer Industries, Inc.®:
Daimer Industries, Inc.® is the internationally leading supplier of over 600 models of advanced cleaning machines, including rugged upholstery steam cleaner systems, commercial carpet shampooers, carpet cleaning steam cleaning machine models, vapor steam cleaners, portable steam cleaners, pressure wash machines, truck mount carpet cleaners, floor steam cleaners, and many more models shipped globally.