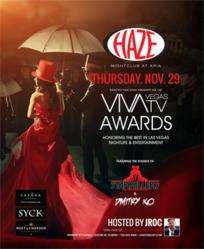 Las Vegas, NV (PRWEB) November 27, 2012
One of Las Vegas' most familiar faces in nightlife, Sancho Van Ryan, will host the Viva Vegas TV Awards, on Thursday, November 29 at Haze Nightclub inside Aria Hotel and Casino. Viva Vegas TV, a division of Future M3dia, is a full-service events and media company based in Las Vegas.
The Red Carpet for this event will be hosted by MTV's Jason "Jroc" Craig, with headlining DJ Starkillers performing their worldwide number one hit Pressure. Industry leaders will take to the red carpet at 10 p.m. for the star-studded event honoring Las Vegas' finest nightlife, socialites, shopping, music, dining and more. With over 40 categories and 250 nominees representing the best local businesses and brands, it is expected to be fall's biggest extravaganza.
"Viva Vegas TV, provides a quintessential marriage of cutting-edge digital media, including videos, photos, and social media, seamlessly integrated with an event or experience that is second to none." says founder, Sancho Van Ryan.
"I am very blessed to have the support of so many great people here in the Las Vegas entertainment industry, which is why I've chosen The Viva Vegas TV Awards as the inaugural event for my new promotional company. It is all about highlighting the amazing individuals who work so hard to make Las Vegas the number one entertainment and leisure destination in the world."
Viva Vegas TV, Moet & Chandon, Cavoda Vodka and Syck Magazine invite all Las Vegas industry icons to be interviewed by Jroc on the Haze Nightclub Red Carpet at Aria, and enjoy what promises to be a historic event.
http://www.vivavegas.tv/news/press-releases/viva-vegas-tv-launches-with-viva-vegas-tv-awards-at-haze-nightclub.html