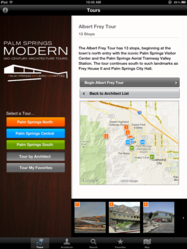 this app will be enormously popular with both visitors and local residents seeking to learn about Palm Springs' enviable cache of mid-century modern architecture
Palm Springs, California (PRWEB) November 28, 2012
The Palm Springs Modern Committee (PS Mod Com) has joined with development partner Palm Springs Life and sponsors TTK Represents Architectural Environments and Brilliant Heating & Air to create an interactive mobile application for iPhone, iPad and Android devices, "Palm Springs Modern: Mid-Century Architecture Tours".
Palm Springs, California is renowned world-wide for its wealth of mid-century architectural masterpieces, designed by a host of the leading modernists. Visitors travel thousands of miles to see the work of A. Quincy Jones, Albert Frey, Donald Wexler, E. Stewart Williams, John Lautner, Richard Neutra, William F. Cody and William Krisel, among others. These architects and their contemporaries worked in Palm Springs from the 1940s through the 1970s to create an esthetic ambiance in the desert city which was quite unlike that seen anywhere before or since.
The homes, commercial and government buildings which they designed brought the latest thoughts in modern, environmentally attuned living to an ever widening audience of both seasonal and permanent residents, as well as domestic and international visitors. The architecture of the city was and remains a key part of what defines "the Palm Springs Lifestyle", sun, martinis, style and determined relaxation.
The Palm Springs Modern: Mid-Century Architecture Tours app includes more than 80 properties, arranged by geographical location in three tours - North, Central or South Palm Springs. Touring by the work of one of 12 individual architects is also an option. A unique feature that distinguishes the Palm Springs Modern tour app from other available applications is the ability to also select 'Favorites' from the featured properties and combine them to create their own customized tour.
Speaking just prior to the launch of the software President of PS Mod Com Chris Menrad stated, "Architectural tourism in Palm Springs has become such a major economic engine that we believe this app will be enormously popular with both visitors and local residents seeking to learn about Palm Springs' enviable cache of mid-century modern architecture."
A striking artistic and historic note is the inclusion of more than 80 photographs from the Julius Shulman archive of the Getty Research Institute. The images by Shulman, a man acknowledged as a master of mid-century architectural photography, have become as iconic as the structures they captured at the moment they were brand new. Through these pictures tour users can simultaneously experience the landmarks of Palm Springs Modern architecture in the present time and in period conditions.
Helping to bring these tours to vivid life are recent color photographs of the properties, accompanied in more than 20 cases with newly recorded high definition video which includes many interior views. Text and narration by noted mid-century modern architecture experts and historians makes the app both insightful and entertaining. The feature-rich content of the tour which makes this software stand out clearly from others of its type requires a Wi-Fi connection for download. The app is available now for purchase at $4.99. To download please visit: PalmSpringsLife.com/psmodapp or the iTunes store.
About Palm Springs Modern Committee
The Palm Springs Modern Committee (PS ModCom) is a non-profit organization dedicated to the appreciation and preservation of Desert Modern architecture and design. We accomplish this through education, advocacy for threatened buildings, promotion of heritage tourism, and the celebration of successes in preservation and adaptive reuse.
For additional information about PS ModCom, please visit: http://www.psmodcom.org Contact: Nickie McLaughlin psmodcom(at)earthlink(dot)net (760) 835-5628