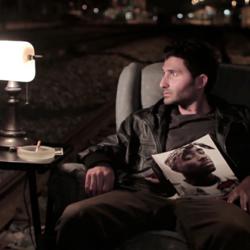 Hollywood, CA (PRWEB) November 27, 2012
Nazo Bravo (born Naz Aslanian) is set to present his debut music video "HyePower" and star in war/thriller short film "4 Minutes" this year at the ARPA International Film Festival in Hollywood, California. The festival will screen more than 60 films from 17 countries, opening with the U.S. Premiere of "Lost And Found In Armenia", starring Jamie Kennedy and Angela Sarafyan of "The Twilight Saga: Breaking Dawn - Part 2".
"HyePower", inspired by a conversation Nazo had with Interscope/Aftermath/TDE artist Kendrick Lamar and Lamar's "HiiiPower", is a gripping journey through Nazo's own cultural heritage and perspectives of first and second generation Armenians living in America (the word 'Hye' literally translates to 'Armenian'). WATCH "HyePower" HERE http://www.youtube.com/watch?v=GsViA9db9Ik.
The second project "4 Minutes" shows Nazo's range as a performer. A far cry from the impassioned rapper in "HyePower", Nazo plays an older Middle Eastern doctor abducted by terrorists in Afghanistan. The film also stars writer/director Stephen Sepher and Rico McLinton, the latter of whom appeared alongside Liam Neeson and Rihanna in Peter Berg's "Battleship" earlier this year.
WATCH the "4 Minutes" trailer HERE http://4minmovie.com.
Both projects will play in the same time block during the festival on Sunday, December 2nd, 4:45pm at the Egyptian Theater in Hollywood. Tickets are available at http://www.itsmyseat.com//events/421042.html.
Nazo's latest single "James Bond" was released with an accompanying video montage of classic scenes from every Bond film. The song and video pay homage to the 50th Anniversary of the James Bond franchise (with the blessing of Columbia Pictures) and release of "Skyfall". Watch the tribute here http://www.youtube.com/watch?v=MtgMyQhIbrk.
To purchase "James Bond" on iTunes, click here http://bit.ly/P6Goag. For more on Nazo Bravo, including free music, visit his official site http://nazobravo.com.