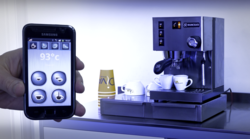 "This app brings coffee machines 10 years into the future."
Sydney, Australia (PRWEB) November 29, 2012
"If you run your life on a smartphone, it needs to know how you like your coffee" said Jim, owner of Diva Coffee.
The app talks to a controller that plugs into the back of a home coffee machine, allowing full control through Android phones or tablets. The user can then get a great coffee by precisely setting the temperature and even programming the size of the coffee. Each drink can be individualised to suit your preferences, and stored in your phone.
"Having precise control over your coffee making process gives you flavours you won't get from standard coffee machines" claims Jim. "Putting the control into a smartphone app allows for easy updates and new functionality, without having to buy a new coffee machine."
The app is designed to work with a wide range of home coffee machines using a plug-and-play wiring system. Each machine can be controlled by the app to suit the environment and usage of that coffee machine.
"This app lets you turn a mid-range coffee machine into a top-of-the-line machine" said Jim. "The app brings coffee machines 10 years into the future."
The app software also adds power saving and boiler protection features to coffee machines, saving on electricity and repair costs.
With specialty coffee now representing 37% of all cups of coffee drunk in the US, there's a powerful trend towards quality. Consumers now want to be able to replicate that same quality at home.
There's also a process of integration occurring with smartphones and everyday items. Toyota has recently introduced the Touch Life in car system, and LG is releasing the Thinq range of smartphone connected appliances. According to Moon-bum Shin, CEO of LG Electronics Home Appliance Company. "Device-to-device connectivity with smartphones and among LG appliances is a new and exciting way for us to realize this goal, helping consumers handle housework in a smarter manner by saving time, money and energy."
To see the coffee app concept in action, head over to divapid.com.
About Diva Coffee
Diva Coffee have believed in Excellence with Attitude for over 8 years. They are an Australian franchise chain based on the Northern Beaches in Sydney, Australia. Diva Coffee are the exclusive importers and distributors of Italian HLF coffee machines. They are also multi-award winning coffee roasters.