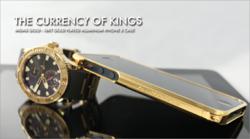 We have added a new line of Limited Edition cases, and have a real 18K gold plated case called the "Midas Gold". There are new case models called "Superior Chrome", "Leios Matte Black" and "Frost White" that match and compliment the White and Black iPhone
San Jose, CA (PRWEB) November 28, 2012
The iPhone has quickly become a symbol of status. While Apple does a great job of bringing such wonderful technology to our fingertips with the iPhone 5, they can easily get dings and scratched, sometimes right from the box even. When the iPhone is all scratched up, it no longer holds the appearance of significance and class, instead it simply looks horrible and unsophisticated. Rather than having the status quo become status no, it's best to protect the Apple investment. Alumacase has recently launched a new line of aluminum cases for the iPhone 5. This new line is much slimmer, lighter and higher in quality and finish than the previous iPhone 4. Company spokesman Raymond Yee said, "We have added a new line of Limited Edition cases, and have a real 18K gold plated case called the "Midas Gold". There are new case models called "Superior Chrome", "Leios Matte Black" and "Frost White" that match and compliment the White and Black iPhone 5 perfectly."
The Alumacase for iPhone 5 is not only a nice accessory, but it also protects the iPhone from scratches and even hides any existing scratches and imperfections. The Alumacase for iPhone 5 is manufactured with superior quality and nicely matches the sleek design and quality of Apple. The sturdy aluminum cases are much better than cheapening an $800 phone with a plastic case, as well the plastic cases don't offer the superior protection of aluminum. Yee said, "We use a minimalistic design, and include a Screen Protector that protects the glass front screen."
Some of the features of the phone case include elegantly designed form and function at the highest level of refinement, which will give an iPhone owner a real feeling of exclusivity. The Alumacase is crafted from "aeronautical grade aluminum" and is sleek, strong and extremely lightweight. Every angle and every line of the case have been thoughtfully engineered to ensure a feeling of pride of ownership. The case is a precision crafted creation that will protect the phone without any chance of scratching or damaging the beautiful finish. There is minimal bulk, and no need to remove the case to gain complete access to most charging docks and other accessories.
The new Alumacase for iPhone 5 product line will be available to the public on November 29th and can be shipped worldwide to 178 countries. To learn more about Alumacase or to make a purchase, visit http://www.alumacase.com.
About
Alumacase takes the ordinary and makes it extraordinary with great form and function designs, precision manufacturing and a luxury taste, and have been doing so for the last 15 years. The company has been on the vanguard of product design by defining the trend, rather than following its less creative competitors. Their passion for design and style coupled with a love for technology has led them to create the latest product designed to project the idea that is a produce that a consumer simply cannot live without.
Alumacase is a company that believes in dedication to quality while projecting individuality, pride of ownership, and a lifestyle that can be afforded by all.