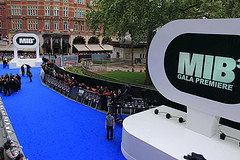 "We aim to stock large quantities of fast moving items and should a problem occur we check if we have items available in our other UK warehouse or look to our European partners. That is why our product is surpassed only by service." Emma Davies
(PRWEB UK) 29 November 2012
CTN and One Up will be launching a new website next month to make the customer journey an easier experience. Sample cards can be downloaded in the form of a PDF and navigation around the products will be improved. New sample cards are being designed ready for the new year ready to promote the new Marquee product ranges.
CTN and One Up have launched many new products recently. Regal Velvet velour carpet is the new exhibition quality velour carpet and many clients are appreciating the luxurious look and feel of the carpet, as well as the price. The carpet has been used in many film premieres in London including Anna Karenina, Mission Impossible Ghost Protocol and Men in Black 3.
Regal Velvet, which is exclusive to CTN and One Up, has a higher pile content than other velour carpets which gives the carpet a plush, velvet sheen and is available in 21 colours.
CTN and One Up supply carpet and wall coverings to event and exhibition organisers as well as supplying cord carpet and vinyl to the marquee industry. Based in Telford and London the company can deliver nationwide using their own fleet of vehicles and drivers. The company has worked hard to ensure that their product portfolio is diverse, functional and priced correctly as well as investing in staff, training, and new processes to ensure that the client receives the best product for their requirements and top customer service too.
Emma Davies, Sales & Marketing Executive stated "Customers want to order the right product quickly and without any hassle and we try to make the buying process as simple as possible. We aim to stock large quantities of fast moving items and should a problem occur we check if we have items available in our other UK warehouse or look to our European partners. That is why our product is surpassed only by service".
Other new products launched by CTN and One Up this year include their heavy duty carpet ranges, Olympia, Mode and Riviera and there will be more new ranges coming!
It seems CTN and One Up is determined to keep their product portfolio fresh and their service excellent.
CTN Exhibitions Ltd is part of the CTN Group of Companies. Established for over 25 years they are leading suppliers of marquee carpet and exhibition display supplies. The CTN Group acquired One Up Display Service in Nov 2010 to broaden their product portfolio and have experienced year on year sales growth.
Contact CTN and One Up today to find out more about their products and services.