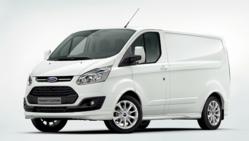 This is a chance to see the Transit Custom in the flesh, whilst enjoying some festive food and drinks and taking advantage of a full product walk-around by Ford UK.
(PRWEB UK) 27 November 2012
Hendy Van & Truck, part of the Hendy Group, are delighted to announce two launch events for the new Ford Transit Custom.
The new Ford Transit Custom embodies all the strengths the Transit has long been renowned for. It now builds on those strengths and completely reinvents them. As testament to its remarkable performance, the new Ford Transit Custom has beaten strong competition to win International Van of the Year 2013.
The launch events will be held at Hendy Van & Truck at School Lane, Chandlers Ford and at Hendy Van & Truck, Southampton Road, Cosham on the 12th and 13th December. This is a chance to see the Transit Custom in the flesh, whilst enjoying some festive food and drinks and taking advantage of a full product walk-around by Ford UK. Also, Hendy are offering current and potential customers the chance to win a sat-nav when attending the event.
Numbers will be limited for the event, so the team at Hendy Van & Truck are urging that places are booked quickly via the online booking form or by calling 0844 5396513.
The Transit Custom ECOnetic has now achieved best-in-class fuel consumption placing it on par with a family car such as the popular Ford S-MAX! The ECOnetic version delivers many low CO2 features as standard, including Acceleration Control, an innovative new technology that limits the acceleration to levels achievable when the vehicle is fully laden, enabling significant fuel savings when the vehicle is unladen or part-laden.
Additional fuel-saving features include a switchable 70mph speed limiter, a unique engine calibration, a coolant bypass valve for quicker warm-up, optimised gearing with a six per cent longer final drive ratio, low rolling resistance tyres and aerodynamic wheel trims.
To find out more about this stunning vehicle and to take a test drive, simply book a place at either the Hendy Van & Truck launch evening at Hendy Van & Truck, Chandlers Ford on the 12th December or at Hendy Van & Truck, Cosham on the 13th September. Or call 0844 539 613. Both events will be held from 3pm to 7pm.
Information for Editors:
Hendy Group Ltd
Chandlers Ford Industrial Estate
School Lane
Eastleigh
Hampshire
United Kingdom
SO53 4DG
Telephone: 023 8027 1271
Fax: 023 8062 7539
Hendy Group Ltd is a premier family motor group with in excess of 20 premises stretching across Southern England from Devon to West Sussex.
Hendy holds Ford, Mazda, Kia and Honda franchises, plus Ford and Iveco van and truck franchises. The company handles all aspects including sales, servicing, parts, hire, accident repairs and Rapid Fit centres. Specialist operations include Liquid Petroleum Gas conversions, engine dynamometer testing, fuel injection testing and repairs, as well as engine sales to the construction and marine industries.
Hendy was founded in 1852 and whilst having grown to a company of significant geographical and economic size, the Hendy Group remains a closely-knit family concern. Currently, both the Chairman and Deputy Chairman are great-grandsons of the company founder F.A. Hendy, with the next generation of sons and daughters within the company structure ensuring the continuity of the family business.
Throughout the company's history, the Hendy family can be said to have followed good business practice - grasping opportunities as they've appeared, reviewing operations in order to remain efficient and keeping up with manufacturers' changing demands. Above all, the Hendy family has always been careful to continue to meet the needs of customers, ensuring that they enjoy the best service and attention at all times.