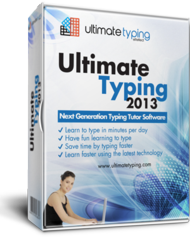 ...learning to type at above-average speeds isn't always going to be an easy endeavour.
New York City, NY (PRWEB) November 29, 2012
Good news for anyone who wants to learn to type! Leading educational software company eReflect has launched a new tutorial software which will provide a vast number of opportunities to learn all the things everyone needs to know in order to be a successful touch typist.
To some, typing may seem like an unnecessary and outdated skill, but with all sorts of work involving the computer at one point or another – not to mention the time everyone spends on social media sites – typing has obviously evolved into something that is required for many aspects of work and daily life. Gone are the days when secretaries were the only ones who were expected to know the layout of a keyboard top to bottom. And it's not just secretaries who will benefit from being able to type continuously without having to constantly look at the computer screen.
Nowadays, every minute counts. Obviously, the faster someone works on the computer, the more tasks they're able to accomplish. The sooner one job is done, the sooner the next one can be started. There's a high premium placed upon having maximum efficiency at work, and it's an advantage anyone can use to get ahead quickly in their career – and all because they possess fast typing skills.
Ultimate Typing recognizes that learning to type at above-average speeds isn't always going to be an easy endeavour. That's why the developers have bundled up into one comprehensive package an astounding array of drills and activities that will help guide the user make the most out of the typing exercises.
Imagine over 220 lessons, all designed by professionals, on top of more than 600 additional practice activities. Imagine a customizable and personalized training program where each user can more efficiently track their own progress. The best part about it is that users will see results in the form of increased typing speed and accuracy in just a matter of days.
Right now, Ultimate Typing is considered to be unrivalled as a typing software program, and the scope of activities it provides all in one package puts it well in advance of other products. More importantly than that, however, customers know they can count on eReflect to provide a well-produced and reliable product with the instruction, ease of use, and customer support they expect.
For more details on Ultimate Typing, head over to http://www.ultimatetyping.com/.
About Ultimate Typing
Ultimate Typing Software is a tutorial program designed specifically for the improvement of typing skills. It was created by eReflect, a world leader in e-learning and self-development software.
Since its creation in 2006 by its director, Marc Slater, the company has already catered to over 112 countries all over the world, offering products with the latest cutting-edge technology, some of which are among the world's most recognized and awarded in the industry.