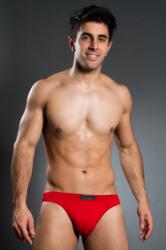 A much more generous gift is a pair of good quality undies that will last, and be first choice every time that drawer is opened
(PRWEB UK) 29 November 2012
Pants with pictures, singing boxers and anything intentionally silly gets the thumbs down, according to a festive survey by Deadgoodundies.
"We're serious about pants and not all our pants are serious, but we'd never stock anything that actually sings, nor Father Christmas boxer shorts," says DGU founder Adam Davies.
But he admits opinion is divided, though not much in favour of 'humorous' men's underwear. Having consulted colleagues and customers, DGU has voted never to stock novelty knickers for Christmas - those featuring pointless pictures, silly faces or a sound module that sings or plays music when pressed.
"Our female customers tell us they do laugh at so-called novelty underwear for men, but for all the wrong reasons. Women tend to regard these designs as childish, a one-trick funny and definitely not a good idea in the bedroom - never mind on a date," Adam smiles.
"One woman told us about a solicitor friend of hers. He was reprimanded in court when his santa shorts started singing a Christmas song after he leaned on a desk at the wrong angle! Sadly, silly shorts also brought one potentially interesting new relationship to an end when said shorts were spotted in a suitcase heading away for a romantic weekend!"
Each Christmas novelty boxers compete with naff jumpers for a place in festive fashion, but as Adam points out: "Only a handful of people can carry them off successfully."
Instead, he recommends men, and the women in their lives, opt for stylish men's underwear 'that won't scare the horses'. Bright colours, quirky prints and slinky shapes are appreciated much longer. Closer-fitting shapes rather than baggy boxers, which do it is true provide a large canvas for picturesque designs, are much more flattering. Briefs, hipsters, cycle length shorts, sporty underwear and snug modern boxers are all great alternatives.
DGU's research also suggests that seasonal designs are likely to lose their lustre, along with the owner's sense of humour, and languish in a drawer when Christmas is over. As Adam says: "A much more generous gift is a pair of good quality undies that will last, and be first choice every time that drawer is opened."
So what do men really think of novelty festive designs? Adam agrees DGU's fashion conscious customers are hardly their top target, but he concludes: "Some have a pair of funny shorts they were given as a gift and don't feel they can throw away, or they might wear a pair as a bloke joke. But most think they're for teenagers, stag weekends and polishing the car!"
Company Information
Deadgoodundies is an online only retailer stocking the best in designer men's underwear and swimwear from all over the world including: (in alphabetical order) Big Boys, Body Art, Bruno Banani, Bum-Chums, Clever Moda, Doreanse, Ergowear, Gigo, Gregg Homme, HOM, James Tudor, Jockey, Joe Snyder, MaleBasics, MANstore, Mey Bodywear, Mundo Unico, Nils Bohner, Obviously For Men, Olaf Benz, Pikante, PUMA, Sloggi, Solar TanThru and Zoggs. DGU also stock selected loungewear, socks, T-shirts and more from their best selling brands.
DGU are incredibly media friendly and always have high res images on hand for fashion pages and samples for photo shoots as well as expert comment and market insight from partners Adam and Jane.
For more information contact DGU PR Jane on 01743 271615 (international +44 1743 271615) or email pr@deadgoodundies.com