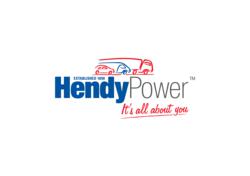 For customer requiring industrial or marine parts, Hendy Power is a main dealer for FPT, Ford, Ford Otosan and Lister Petter.
(PRWEB UK) 28 November 2012
Hendy Power, an award winning part of the Hendy Group, has launched its new look website http://www.hendypower.co.uk with brand new features to ensure current and potential customers can track down the right engines, parts, components and service that they require.
Now stocking a wide variety of engines for marine, industrial, automotive and power generation, customers can easily find the right engine from a number of leading manufacturers including Lister Petter, FPT and Ford.
Each engine on the Hendy Power website includes a technical specification including its power, weight, injection type, torque and other key features. To find out more about any engine has never been easier, simply click on the 'Enquire about this engine' and the enquiry will be sent to a member of the team.
For customer requiring industrial or marine parts, Hendy Power is a main dealer for FPT, Ford, Ford Otosan and Lister Petter.
The Lister Petter parts range includes service exchange products kits, overhaul kits and running hour kits. The parts list can be downloaded as a PDF file or an Excel spread sheet to help find the right parts for the job. A selection of the parts stock is also available to purchase at the Hendy eBay shop.
Hendy Power supplies a wide range of service packages with the sale of new marine and industrial engines. Engines that were not purchased from Hendy Power can also be considered for these service packages. Contact the Hendy Power service team with the engine's requirements, and the team of experts will provide a quote.
To find out more about the Hendy Power division or to see the new website, simply visit http://www.hendypower.co.uk or call the team on 0844 5395802
-Ends-
Information for Editors:
Hendy Group Ltd
Chandlers Ford Industrial Estate
School Lane
Eastleigh
Hampshire
United Kingdom
SO53 4DG
Telephone: 023 8027 1271
Fax: 023 8062 7539
Hendy Group Ltd is a premier family motor group with in excess of 20 premises stretching across Southern England from Devon to West Sussex.
Hendy holds Ford, Mazda, Kia and Honda franchises, plus Ford and Iveco van and truck franchises. The company handles all aspects including sales, servicing, parts, hire, accident repairs and Rapid Fit centres. Specialist operations include Liquid Petroleum Gas conversions, engine dynamometer testing, fuel injection testing and repairs, as well as engine sales to the construction and marine industries.
Hendy was founded in 1852 and whilst having grown to a company of significant geographical and economic size, the Hendy Group remains a closely-knit family concern. Currently, both the Chairman and Deputy Chairman are great-grandsons of the company founder F.A. Hendy, with the next generation of sons and daughters within the company structure ensuring the continuity of the family business.
Throughout the company's history, the Hendy family can be said to have followed good business practice - grasping opportunities as they've appeared, reviewing operations in order to remain efficient and keeping up with manufacturers' changing demands. Above all, the Hendy family has always been careful to continue to meet the needs of customers, ensuring that they enjoy the best service and attention at all times.