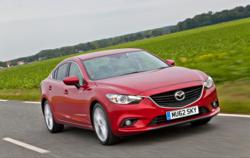 The all-new Mazda6 will shake-up the upper medium company car sector. Although diesel power will dominate corporate sales, we believe petrol-engine models will secure a significant following
(PRWEB UK) 29 November 2012
Low mileage, budget-conscious company car drivers are forecasted to be attracted to the all-new petrol-engined Mazda6 featuring breakthrough SKYACTIV technology which will be available from Hendy Business in January 2013.
The model's petrol engine power comes from a 2.0-litre SKYACTIV-G unit with the option of either 145ps or 165ps outputs in four-door Saloon or five-door Tourer body styles.
The 145ps in Saloon guise has CO2 emissions of 129g/km (131g/km Tourer) putting it among the class-leaders in the upper medium segment. Miles Per Gallon on the combined fuel cycle is 51.4 (Tourer 50.4).
On sale in January 2013 at Hendy Business, the all-new Mazda6 is available in SE, SE Nav, SE-L, SE-L Nav trim levels, from £19,595 on-the-road.
Due to a combination of competitive list price and low CO2 emissions figure, the 2.0-litre 145ps SE model has the lowest monthly benefit-in-kind tax figure of any of the 36 all-new Mazda6 models.
A monthly company car benefit-in-kind tax cost of £52 for a basic rate taxpayer or £104 for a higher rate taxpayer means the bill is lower than the rival BMW 320i EfficientDynamics which, while having the lowest CO2 emissions figure (124g/km) in the class has a significantly higher on-the-road price (£25,730) meaning a tax burden of £64/£128.
In fact, all manual versions of the 2.0-litre 145ps Saloon offer benefit-in-kind tax savings versus the BMW model as do the two Tourer models available in SE-L and SE-L Nav specification.
Mazda Head of Fleet Steve Tomlinson said: "Diesel models account for approximately 90 percent of upper medium sector company car sales because many drivers are clocking up high annual mileages.
"However, there is a section of the company car driving population that require an upper medium sector car to meet work or lifestyle requirements but do not drive quite as many miles.
"Consequently, we believe that the all-new petrol-engined Mazda6 offers the perfect choice as employees can enjoy the car's top-notch performance whilst benefiting from tax savings versus competitor models," concluded Tomlinson.
Industry-leading developments that focus on powertrains, improved aerodynamics, vehicle weight reduction and chassis and transmission enhancements are all embraced within Mazda's SKYACTIV technology.
As a result, the new 2.0-litre 145ps Mazda6 delivers a 17 percent reduction in CO2 versus the outgoing entry-level Mazda6, a 21 percent increase in power, a 22 percent increase in MPG and a 27 percent increase in torque.
Tomlinson added: "The all-new Mazda6 will shake-up the upper medium company car sector. Although diesel power will dominate corporate sales, we believe petrol-engine models will secure a significant following."
The petrol-engined 2.0-litre 165ps Saloon and Tourer are available in Sport and Sport Nav trim levels with on-the-road prices from £23,515. CO2 emissions are 135g/km (Tourer 136g/km) with combined cycle fuel economy of 47.9mpg (Tourer 47.9mpg).
For more information about the Mazda6 contact the Hendy Business Team on 0845 608 0413
-Ends-
Information for Editors:
Hendy Group Ltd
Chandlers Ford Industrial Estate
School Lane
Eastleigh
Hampshire
United Kingdom
SO53 4DG
Telephone: 023 8027 1271
Fax: 023 8062 7539
Hendy Group Ltd is a premier family motor group with in excess of 20 premises stretching across Southern England from Devon to West Sussex.
Hendy holds Ford, Mazda, Kia and Honda franchises, plus Ford and Iveco van and truck franchises. The company handles all aspects including sales, servicing, parts, hire, accident repairs and Rapid Fit centres. Specialist operations include Liquid Petroleum Gas conversions, engine dynamometer testing, fuel injection testing and repairs, as well as engine sales to the construction and marine industries.
Hendy was founded in 1852 and whilst having grown to a company of significant geographical and economic size, the Hendy Group remains a closely-knit family concern. Currently, both the Chairman and Deputy Chairman are great-grandsons of the company founder F.A. Hendy, with the next generation of sons and daughters within the company structure ensuring the continuity of the family business.
Throughout the company's history, the Hendy family can be said to have followed good business practice - grasping opportunities as they've appeared, reviewing operations in order to remain efficient and keeping up with manufacturers' changing demands. Above all, the Hendy family has always been careful to continue to meet the needs of customers, ensuring that they enjoy the best service and attention at all times.