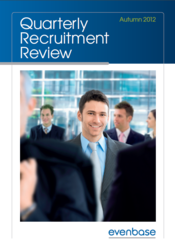 Jobseekers are becoming more proactive in their job search as 11% more candidates would consider sending their CV directly to employers.Plus there has been a 6% rise in the use of social and business networks in their job hunt such as Twitter and LinkedIn
(PRWEB UK) 27 November 2012
Global digital recruitment group Evenbase releases its latest Quarterly Recruitment Review (Autumn 2012), detailing changes in UK recruiter and jobseeker behaviour. Conducted on a quarterly basis by an independent research agency, the latest report is available to download for free now: http://www.evenbase.com/RecruitmentReviewAutumn2012
Evenbase's Autumn Quarterly Recruitment Review sees a dip in the hiring boost reported in the Summer Quarterly Recruitment Review, with the average number of vacancies advertised per business dropping to 6.5 from 7.7. Although there is a drop in the average number of vacancies, nearly half of businesses are hiring (46%), which is at its highest since May 2010.
Interestingly there has been a 40% rise in contract and temporary roles being advertised as employers limit their permanent hiring.
Job boards remain the most considered resource for both jobseekers and businesses. Businesses remain selective with their choice of job board, with 55% using only one job board for their recruitment needs, whereas jobseekers are much more promiscuous with 63% using 2 or more to job search.
Jobseekers are becoming more proactive in their job search as 11% more candidates would consider sending their CV directly to employers, whilst the number of people saying they use job boards to upload their CV has dropped by 6%. Another indication of jobseekers taking a positive approach to their career development is a 6% rise in the use of social and business networks in their job hunt such as Twitter and LinkedIn.
SoHo businesses (10-49 employees) have demonstrated the most interesting shift in candidate attraction, decreasing the use of personal networks from 37% down to 17% this quarter and returning to traditional recruitment methods, listing newspaper advertising as their most used recruitment method.
The popularity of mobile continues with nearly three quarters of candidates now owning a smartphone. 60% of jobseekers use their phones for browsing jobs, but the biggest change can be seen in the use of mobiles to apply for jobs, up from 22% to 34% since the summer.
Mike Wall, MD of Evenbase's Job Boards division, comments; "The Evenbase Quarterly Recruitment Review gives a great insight into consumer and business behavioural trends relating to jobseeking and hiring. Despite the average number of vacancies advertised per business dropping, recruiters are keen to keep an eye out for good candidates with the number of businesses using CV-by-email services having more than doubled since February 2012. This, and a searchable CV database, remain the most desirable features that businesses want from a job board. Based on these trends, Evenbase have been investing resources into our core services and matching technology, which we are looking forward to sharing with you soon.
Wall continues, "Businesses are using more job boards for the first time since early 2011, and mobile technology now seems to be resonating with employers as well as jobseekers. Businesses looking to adapt to this trend will need to offer mobile optimised websites and look at ways of improving their application process via mobile. More than 1 in 5 jobseekers said they wanted the job boards they use to have a mobile site, and although competitive pricing and specialist knowledge remain the most important qualities that businesses want from a job board, the importance of having a mobile site has crept up with them also to 37% from only 28% in May 2011."
The Evenbase Quarterly Recruitment Review (Autumn 2012) is available to download now for free: http://www.evenbase.com/RecruitmentReviewAutumn2012. The next Quarterly Recruitment Review will be available in January 2013.
Notes to editors:
About the research: Evenbase's quarterly review is based on in-depth, independent online research among 500 jobseekers and 200 recruiters, carried out by market research agency HPI in September 2012. Respondents are selected from a third-party database of jobseekers and businesses, with a 50/50 split of male & female respondents, as well as a good spread across factors such as age, location, sector and salary. This spread is maintained consistently across the research each quarter, so that the findings can be compared with confidence.
Jobseekers are split approximately 50/50 between active and passive candidates. Active is defined as anyone who is attending interviews or has taken steps to find a new job, such as looking at relevant vacancies. Passive is defined as anyone who is considering or open to switching jobs, but has not yet taken any action.
Business respondents are selected according to business type as follows:

50 recruitment decision-makers from SoHos (10-49 employees)
75 recruitment decision-makers from SMEs (50-249 employees)
75 recruitment decision-makers from corporate organisations (250+ employees)
About Evenbase (http://www.evenbase.com): Evenbase is a global digital recruitment group which includes flagship brands such as Jobrapido, Broadbean, Jobsite and OilCareers, and technology partnerships such as NHS Jobs, Northcliffe Media and Johnston Press. We discover and develop intelligent recruitment services that revolutionise the matching of talent with opportunity and make the recruitment process better for everyone involved. This focus drives synergies between our four business areas of Job boards, Business solutions, Recruitment software and New ventures. Our portfolio currently spans 55 countries, includes a network of over 60 recruitment sites and employs more than 400 people. We have offices in North America, United Kingdom, United Arab Emirates and Australia, with aggressive plans in place for further expansion. Evenbase is part of A&N Media (http://www.and.co.uk), the consumer media division of DMGT plc.