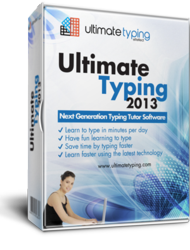 With Adaptive Learning Technology, the user can continue to set their learning goals higher as their skills improve...
New York City, NY (PRWEB) November 30, 2012
Some people have the amazing ability to let their fingers fly across the computer keyboard, composing pages upon pages of written documents without having to constantly look at which keys they should press. For anyone who wants to be a skilled typist like that, and be the envy of their peers in the office, there's some good news: eReflect has released the new typing tutorial software, Ultimate Typing.
What makes this new typing software particularly useful is that it provides a very efficient lesson plan that allows the user to be able to learn to type faster. Using a variety of techniques, from typing drills to how-to videos, Ultimate Typing can easily help a user convert from a two-finger key-hunter to a sophisticated touch-typist.
The software boasts more than 220 lessons, all designed by computer software and typing experts, which guarantee premium results in a short time. Because typing is a skill that requires practice, the software also provides support by making available 600-plus practice activities and games.
To help each user track their progress, the software provides time, speed, and accuracy charts. In addition, the software uses Adaptive Learning Technology, a feature that is considered to be a breakthrough insofar as tutorial software technology is concerned. With Adaptive Learning Technology, the user can continue to set their learning goals higher as their skills improve, and upgrade the practice texts at any time to keep increasing the challenge to their typing speed.
Many software products on the market have a "one size fits all" policy when it comes to curriculum design. For Ultimate Typing, and the rest of the eReflect products, however, it's all about being able to determine what the specific user requires in order to continue learning, and having the software adjust to support that continue improvement.
It is this keen understanding of the user's needs that allow Ultimate Typing to be miles ahead of the pack, especially where providing a good quality typing tutorial is concerned. Ultimate Typing's programs promise to present users with more than just a trick or two when it comes to unlocking the secrets to being able to type faster.
For more details on Ultimate Typing, go to their website at http://www.ultimatetyping.com/.
ULTIMATE TYPING SOFTWARE is a tutorial program designed specifically for the improvement of typing skills. It was created by eReflect, a world leader in e-learning and self-development software.
Since its creation in 2006 by its director, Marc Slater, the company has already catered to over 112 countries all over the world, offering products with the latest cutting-edge technology, some of which are among the world's most recognized and awarded in the industry.