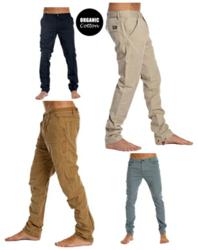 Leeds, United Kingdom (PRWEB UK) 28 November 2012
Mens designer online store Reemclothing.com is getting ahead of fashion by stocking all of the latest branded chinos in all colours ready for the spring and summer rush.
Chinos are set to be the craze of the fashion world for Spring/Summer 2013, online designer mens clothing retailer Reem Clothing are proud to be at the forefront of fashion and are introducing some new brands to their dynamic range of chinos and welcome back the old favourites in to their already extensive range.
Reem Clothing stocks all brands of designer chinos including Firetrap, Humor, Jack Jones, Voi and JC Rags to name just a few. "Chinos are popular because the material is soft, the pants loose and comfortable and they are so easy to wash and wear", advised a Reem Clothing representative. "Something that teenagers love is to wear the same set of clothes day in, day out".
Jack Jones chinos are an extremely popular designer of chinos and have been focusing on new innovative styles to beat the competition. Reem Clothing stocks a variety of Jack Jones chinos in different designs, colours and sizes. One of the most sought after styles is the Bolton Edward pants which feature two front pockets and welt pockets to the reverse, button fly and are classic slim fit. These are available in rust burgundy and mustard. They are an affordable £40.00.
One thing to make sure of when purchasing chinos is to tread carefully with bright colours, anyone wearing red is pretty ballsy but if the chinos match the personality then stand out in the crowd. However, if red or green is not appealing Reem Clothing stock all colours including sand, navy, denim and brown.
Another popular brand is Reem Clothing's own brand Reem Basics. Reem Basics Chief chinos are relaxed fit, straight leg chinos with button fly and contrasting white rivets throughout the double belt loops. What is perfect about these is they come in a range of colours from red, yellow and blue to charcoal. "Reem Basics chinos can be worn with shirts, T-shirts, hoodies and polo shirts. Like jeans were the 'in fashion' trousers, rappers have made chinos the in fashion wear for youngsters nowadays".
Whether you are hanging out with friends or spending a night in the clubs; chinos are a must have item for the Spring/Summer 2013 fashion season.
ABOUT REEM CLOTHING
Reem Clothing is a designer mens clothing stockist. Selling the most fashionable designer labels at http://www.reemclothing.com. Reem Clothing allows customers to enjoy the convenience and cost savings associated with online shopping without compromising the high levels of service and security you would expect from high street stores.
The company was established in 2003 and has been growing ever since. Reem Clothing sells through its website, http://www.reemclothing.com and can boast of a personal shopping service that offers friendly and professional advice to ensure that customers get the most out of their clothing shopping experience.
Reem Clothing sells the UK's widest variety of mens designer clothing. They have a selection of up to the minute mens accessories, designer footwear, mens jeans, shirts, t-shirts and shorts. They also stock their own branded mens clothing "Reem Basics".
Reem Clothing prides itself on stocking the largest range of the coolest items of mens clothing. They combine the most fashionable designer labels in the UK with choice imports from Europe. Reem Clothing have all the top brands in mens fashion including, Original Geek, Farah Vintage, Religion, Cuckoo's Nest, Voi Jeans and many more.
Customer service is still a top priority with Reem Clothing, making the shopping online experience completely hassle free. They are more than happy to receive feedback on how they can improve the mens clothing collections or any aspect of the ordering process.