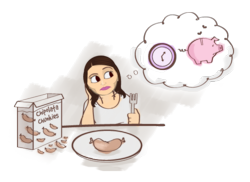 The eternal question of the female mind: How to Lose Weight? We need to eat well and do more to lose weight.
(PRWEB UK) 30 November 2012
Five tips on how to lose weight in the run down to Christmas...
1. Have a goal
Whether the aim of the weight loss is an upcoming event, a special occasion, neglected wardrobes full of clothes that no longer fit or simply the desire to feel good, look good and make life better, set the goal, write it down and stick it behind every cupboard door and bathroom cabinet; and refer to it daily.
2. BUT don't see this as a short term fix
Going on a diet to lose weight and then reverting back to eating the same way as before is guaranteed to put the weight back on, often with a couple of extra pounds for company as the negative diet cycle continues. Making small changes and being consistent will make it much more likely that your weight loss will be sustainable.
3. Plan
It was Winston Churchill, British Prime Minister during World War 2 who said "He who fails to plan is planning to fail." Although he was talking about the war, there is a very relevant message here. Failing to plan ahead properly is one of the main reasons weight loss attempts do not succeed. Having a plan for both eating and exercising in advance is essential when the goal is losing weight.
4. Re-write your food rules
Think of three different rules from your childhood that defined your eating habits. Now we are adults, it is time they are re-written:
•"Always clear your plate" -> "Stop eating when you are full"
•"Don't waste food" -> "Plan your shopping so you don't throw away food"
•"Eat as much fruit and vegetables as you like" -> " All calories count"
5. Remember the 60:40 rule
What we look like and feel like is 60% due to what we eat and 40% due to what we do. There is no escaping it, unless you are genetically blessed, in which case you are unlikely to be reading this article in the first place; the only way to look healthy and toned is to be healthy and toned.
So, if you want to look good, feel good and have more energy than before, give it a try, you've nothing to lose except weight!