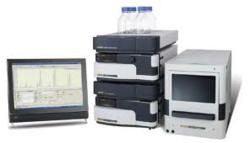 Florisil & HPLC @ Scien.net
Bad Honnef, Germany (PRWEB) November 28, 2012
The aim of the Natural Sciences Bibliographic Web Portal including its two new Florisil and HPLC References sections is to provide comprehensive bibliographic information on the basic and applied life, earth and health sciences. The information contains a minimum of bibliographic information consisting of title, authors, publication year and source while expanded references provide an additional summary of the publication's scientific content. All references are grouped into eleven main sections which are subdivided into ten categories each. The site as well as every section and category provides RSS feeds alerting the site's users of newly published content. Every bibliographic reference is tagged with up to twenty scientific keywords which cross-connects them beyond sections and categories.
The Chromatography Section contains scientific information on chromatography which is the collective term for a set of laboratory procedures used in the separation of mixtures. The various components of the mixture travel through the phases at different speeds, and this difference in speed causes the components to separate. This separation is based on differential partitioning between the mobile phase and the stationary phase. Preparative chromatography is used to separate the components of a certain mixture in order to purify it. Analytical chromatography is done with relatively smaller amounts of the material, and is used for measuring the relative proportions of analytes in a specific mixture. The latest content in this category is also available through a Chromatography Section RSS feed. The section currently contains over 10,600 posts and is subdivided into the ten categories Acetonitrile, Cellulose, Florisil, HPLC, Ionization, Precolumn, Purification, Sepharose, Silicate, and Virus.
Within this section, the new category Florisil contains scientific information on Florisil which is a highly selective adsorbent that is ideal for use in preparative chromatography and analytical chromatography. Florisil is made up of extremely white and hard-powered synthetic magnesium silica gel and is supplied in four grades. The category contains 70 newly published posts of which the very latest inclusions are also available through a Florisil RSS feed. It features posts on gel permeation determination of residual organochlorine compounds in milk products, gas chromatographic method for analysis of 2,4-D in wheat, and on gas chromatographic determination of electron capture sensitive volatile industrial chemical residues in foods, using AOAC pesticide multiresidue extraction and cleanup procedures.
The new category HPLC contains scientific information on high-pressure liquid chromatography, a chromatographic technique that is used to separate a mixture of compounds. HPLC is especially useful in analytical chemistry and biochemistry, where the process is used to identify, quantify, and purify the individual components of the mixture. This category contains over 320 newly published posts of which the very latest inclusions are also available through a HPLC RSS feed. It features posts on a method for the determination of the mycotoxin deoxynivalenol (vomitoxin) in animal tissues by HPLC-GC, HPLC of triglycerides of Flacourtiaceae seed oils containing cyclopentenyl fatty acids (chaulmoogric oils), and on HPLC strategies for the determination and confirmation of anticoagulant rodenticide residues in animal tissues.
While the publishers of the web portal have a stock of 21,238,124 references of which 10,564,269 (50%) contain a summary, this information will be made successively available to the public until 2014. While the site has presently published a total of 1,263,000 posts online, the number of published bibliographic resources increases by 10,000 items every day. All items are interconnected with over 296,000 tags. The publishing status is reflected in the site's continuously updated tagline.