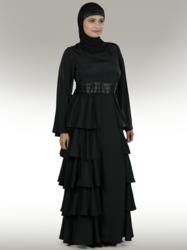 Any Size, Any Length; We Customize for YOU
(PRWEB) November 27, 2012
Since its inception to the marketplace, MyBatua has made a niche in the market as an Islamic fashion retailer. On the website of the company, online shoppers get a never before opportunity to explore a wide variety of designer & modest clothing. This clothing range is a sincere testimony of exclusive craftsmanship and expertise. The choice lasts with traditional and modern Islamic outfits, contemporary, western, fashionable and exclusive apparel both for man and women. To expand the reach of all its products across the global online shoppers, http://www.Mybatua.com now becomes the proud addition to the renowned online store eBay.
Now MyBatua has another occasion to celebrate with its esteemed online buyers. They can now purchase the finest range of splendid Islamic clothing collection equipped with the most luxurious fabrics, exquisite craftsmanship and designs together. With its inclusion on eBay, MyBatua strive to offer plenty of Burka, Abaya, Jilbab, Hijab and Tunics to the customers in the very amazing price range. Buying Islamic clothing on eBay has become more lucrative and comfortable like never before. As always, shopping at MyBatua.com is a lifetime purchase for the buyers due the quality of work, designs and embroideries with an appeal of contemporary trends and fashion styles.
While visiting http://www.Mybatua.com store, not only customers find an opportunity to shop for a wide variety of designer clothing manufactured uniquely for Islamic women and men but also avail reduced price tag with never before discounts. All one has to do is to visit MyBatua on eBay and get up to 15% off your purchase. With every purchase from MyBatua at eBay customers are ensured to enjoy daily addition of a new Islamic clothing range with quick courteous response, fast shipping and hassle free returning policy.
Visit MyBatua.com to grab great deals on Abaya, Jilbab, Hijab, handbags, purses, Sherwani and other traditional yet trendy Islamic clothing range available in a dazzling variety of colors, textures, fabric, embroidery patterns and designs.
About The Company: MyBatua is the one-stop connection on the Internet for a complete range of Islamic fashions for women and men. What is more, the store offers a complete range of accessories such as handbags, purses, clutches, hijabs, scarves, stoles and much more.
To Know More: Please visit http://www.mybatua.com