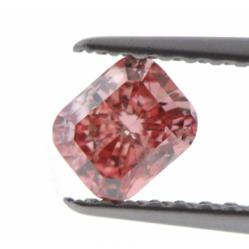 The pink diamond is considered one of the world's rarest and most valuable types of diamond
Israel, Jerusalem (PRWEB) November 28, 2012
Israel, Jerusalem, November 22, 2012 – Denir Diamonds, a reputable online diamond store based in Israel recently announced that they are now offering rare pink diamonds. The pink diamond is considered one of the world's rarest and most valuable types of diamond. About 95 percent of the world's supply of this type of diamond comes from the Argyle Diamond Mine in Western Australia.
"With the increasing demand and popularity of the rare pink diamonds, our company is pleased to announce that we have just added Argyle Pink Diamonds to our certified colored diamonds collection," Denir Diamond's president Michael Aghbashoff announced.
Although there are other sources of pink diamonds such as those found in Brazil, India, and Africa, the Argyle Diamond Mine remains the most reliable source of superior quality pink diamonds. Pink diamonds from other sources are lighter in color and are not as intense as those from the Argyle Diamond Mine.
Pink diamonds with intense shades of color are very rare and expensive. Out of Argyle Diamond Mine's yearly production of 600 million stones, just one-tenth of one percent is classified as pink in color. Because of its rarity and increasing popularity, Argyle Pink Diamonds have become one of the most expensive natural-colored diamonds in the market today.
Pink diamonds are graded based on the color intensity of each stone. Argyle Diamonds are classified by color intensity using a scale of 1 to 8, with 1 being the most intense color. This grading scale is then added to an additional grade based on the individual diamond hue. The pink diamond's color intensity ranges from very intense, which is number 1 to blush, which is number 8 on the scale. Pink diamond hues, on the other hand, are classified into: PP (Purplish Pink), P (Pink), BP (Brownish Pink), and PC (Pink Champagne) in order of rarity with PP being the rarest. Pink diamonds are priced based on the size and color intensity. The bigger and more intense the color is of a pink diamond, the more expensive it becomes.
Naturally occurring pink diamonds are categorized into two types. Type 1a is the more common type. Diamonds get their color from the nitrogen impurities present within its structure. The other type is Type 2a in which diamonds derivetheir color through a process called plastic deformation and occurs when the diamond is formed as it undergoes intense pressure and heat several kilometers deep underneath the earth's surface. A Type 2a pink diamond contains very small amounts of nitrogen impurities and is extremely rare and valuable compared to its Type 1a counterpart. Argyle Pink Diamonds belong to this category.
"Argyle Pink Diamonds are very rare and valuable," Aghbashoff said. "Owning an Argyle Pink Diamond instantly puts a person into the elite of diamond connoisseurs. It is the most concentrated form of wealth on the planet," he added.
Denir Diamonds, being one of the trusted sellers of pink diamonds, offers free shipping anywhere in the world with highly secured shipping arrangements from top carriers. All their pink diamonds are sold with valid certificates to prove their authenticity.
About the Company
Denir Diamonds is a prestigious online store that sells certified colored diamonds such as yellow, brown, orange, pink and blue. They sell loose diamonds including diamond rings, necklaces and earrings. You can browse through their diamond collection by visiting their Website at http://www.denirdiamonds.com . You may also call them for inquiries at 1-888-805-8665.