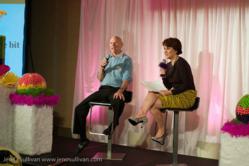 "Write down what you want to accomplish in the New Year. What's at the top? What will keep you motivated once the year begins? Make sure each goal is SMART: Specific, Measurable, Attainable and Timely." Marley Majcher, Business Coach, Author and Speaker
Los Angeles, CA (PRWEB) November 29, 2012
In business and life, small steps equal big results. These tips from [The Party Goddess! will strengthen your business at the end of 2012, so you can hit the ground running in 2013.
Marley Majcher knows first-hand that you get back what you put into a business. Majcher, owner of the L.A. based catering and celebrity event planning company, The Party Goddess!, is also the author of But Are You Making Any Money?
TIPS TO START STRONG
1.Make a list of what went right and what went wrong in 2012.
Don't repeat the past. Step back and evaluate which initiatives worked and consider why. Also review and examine mistakes. What could you have done differently or better?
2.Stop doing everything yourself.
Focus your time and energy on the things you're best at – growing your business and making money. Leave everything else to a skilled team of virtual assistants if you don't have the luxury of a more permanent staff.
3.Update your website.
The web is one of the least expensive and most affective places to market your business. Your site needs to be planned out so that it connects with your ideal client and highlights your skills. However, it should repel or attract: Trying to be all things to all people without a clear message doesn't work.
4.Make a list of goals for 2013.
Write down what you want to accomplish in the New Year. What's at the top? What will keep you motivated once the year begins? Make sure each goal is SMART: Specific, Measurable, Attainable and Timely,
5.Review opportunities on the horizon.
Look ahead. Is there a new football stadium opening that your business can provide services for? Plan for change and review what's on the horizon. Also decide which areas of business you want to expand and explore possible strategic partnerships – key for 2013.
TIPS TO FINISH STRONG
1.Review 2012's budget and compare them to actual expenses.
What did you think you were going to spend versus what did you actually spend? Do the same for revenue. What did you budget to earn and did it happen? If not, what do you need to adjust? Then, [Majcher says you should decide what you want your budget and expenses to be in 2013.
2.Review and adjust your goals.
Are the goals you set in January still valid or do you need to tweak them? Are you still excited about them? What do you need to make your goals happen? Adjust budgetary goals as necessary.
3.Review projects and expansion goals.
You may have thought you wanted to expand business by speaking at conferences, but then realized you hate to travel. Change the project. Or if you added a new service or product, make sure you know the numbers. How much time and money did you spend to implement the new service or product? Compare that to sales and income. Was there a big enough profit margin?
4. Course correct.
What do you need to do to reach your goals? Try scheduling webinars and tele-seminars to share your expertise and promote your businesses instead of traveling. Partner with other [entrepreneurs who compliment your business. Explore creating new services/packages. Determine if you should tweak the pricing to meet your goals and increase your ROI.
5.Get by with a little help from your business friends.
Form a mastermind and/or a group to set you straight. Majcher says she wishes she had learned this lesson early on. Seek out people with different strengths and ideas who will be honest and not just cheerlead all of the time. Schedule regular meetings, stay on topic and be there for each other, especially when the going gets tough. Because it will.
About [Marley Majcher
Marley Majcher is the author of But Are You Making Any Money? and the CEO of The Party Goddess!, a nationally acclaimed full-service catering and celebrity event planning company that originates all aspects of large scale functions for A-list celebrities, social and corporate clients alike. Majcher has also had numerous appearances on every major television network including ABC, CBS, NBC, MTV, E!, HGTV, Style, Bravo, and FOX, as well as featured articles and interviews in such publications as The Wall Street Journal, Chicago Tribune, The Los Angeles Times, Fortune, People, OK!, Us Weekly, InStyle, BusinessWeek, Entrepreneur Magazine, and a list that grows by the day. For more information, visit marleymajcher.com.