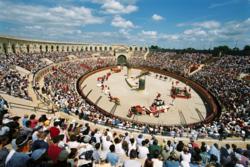 There's nothing quite like camping in France for a family holiday
Bordeaux, France (PRWEB UK) 29 November 2012
There's nothing quite like camping in France for a family holiday, especially if you can keep hold of your home comforts and tie your visit into a fascinating French festival or thrilling theme park.
Holiday park specialist Siblu Villages (siblu.com, 0871 911 7777) has launched 10% savings off family holidays in France for mobile home bookings made before 31 January 2013 – the perfect excuse to enjoy a posh camping break and experience one of these top theme parks and festivals.
Un Violon sur le Sable is an extraordinary free-to-watch classical music concert that takes place on the beach at Royan over three nights in July (from 20-27 July 2013).
Many world renowned musicians and orchestras take part, so find a spot on the sand and spend the day relaxing in the sun, preparing for the evening's stunning sound and light extravaganza.
Where to stay: Siblu's Bonne Anse Plage holiday village in nearby La Palmyre, in Charente Maritime, is on the edge of La Coubre forest and within walking distance of the sea. The park has pools and slides, a climbing wall and cycle paths that snake off to the local beaches. Prices from £819 for seven nights from 20 July (saving £91), for up to six people staying in a two-bedroom holiday home.
Puy du Fou is a collection of recreated ancient villages that showcase 2,000 years of history, with spectacular noisy, smoky, live performances of Musketeer sword fights, looting Vikings and armies laying siege to heavily defended castles.
The theme park in Les Epesses, in the Vendee, features magnificent performances of falconry with 150 birds, jousting, magic and music, and the park explodes into life during the evenings when a thousand local volunteers perform a historical sound and music extravaganza on what they claim is the world's largest stage.
Where to stay: Siblu's Le Bois Masson is a lively four-star holiday village in the coastal resort of St-Jean-de-Monts, with indoor and outdoor pools, a health and wellbeing spa, bar and restaurant. Prices start from £385 (saving £42) for seven nights from 1 June, staying in a two-bedroom mobile home.
The Lorient Celtic Festival (3 to 12 August 2013) is a 10-day celebration of Celtic culture that includes more than 250 events for 700,000 visitors. There's a diverse collection of musicians from across the world and headline events including Pipe Band and Bagpipe Championships, instrument master-classes and dance competitions. About 60% of the events are free to watch, so there is an amazing amount to see and experience at no cost.
Where to stay: Siblu's Domaine de Kerlann holiday village near Pont Aven in southern Brittany has free children's clubs, indoor and outdoor pools, a splash zone and sports pitches. Prices from £801 for seven nights from 3 August (saving £88), for up to six people in a two-bedroom holiday home.
Futuroscope, France's second most popular theme park, is dedicated to science and exploration. Awe-inspiring are broadcast on giant Imax screens and include an interactive safari to future; the legendary Apollo 11 moon flight as viewed by a fly on the wall, and an incredible 4D-adventure created by renowned film director Luc Besson.
The park, which is in Poitiers in the west of France, features many other hands-on attractions, including giant robot arms that dance with their occupants and a light show blasted onto water.
Where to stay: Siblu's Les Charmettes in Les Mathes, Charente Maritime, is a giant holiday village with a large indoor and outdoor swimming complex and pools, slides and fountains that all the family can enjoy. Prices from £378 for seven nights (saving £42) from 1 June, for up to six people in a two-bedroom holiday home.
More information about Siblu Villages

Siblu owns 15 holiday villages across France: Domaine de Litteau (Normandy), Domaine de Kerlann, Pierres Couchees (both Brittany), Domaine de Dugny (Loire Valley), Le Bois Masson, Le Bois Dormant (both Vendee), Les Charmettes, La Pignade, Bonne Anse Plage (all Charente Maritime), La Reserve (Aquitaine), La Carabasse, Le Lac des Reves, Les Sables du Midi (all Languedoc), Le Montourey (Cote d'Azur)
Siblu has sold holidays to France for more than 30 years
Siblu welcomes around 120,000 guests every year
With more than 25 activities available at every holiday village, lifeguarded pools and free children's clubs, siblu is a perfect setting for families
For press information: contact Daniel Johnson: daniel(at)danieljohnsonpr(dot)com, 07429 256 670.