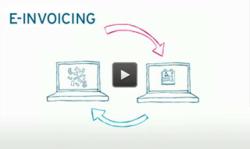 73 per cent of UK respondents agree that e-invoicing can help improve management of currency changes and conversion
Guildford, Surrey (PRWEB UK) 28 November 2012
While our world is becoming ever more global, the financial world can still seem quite parochial. Each financial market has its own laws and ways of doing things, which are strongly influenced by government regulation and local culture.
This is one of the reasons why Basware conducts an annual Global E-Invoicing Study.
Together with the Institute of Financial Operations (IFO), Basware surveyed 908 finance professionals from the US, UK, Sweden, Norway, Germany, Finland and other countries. They asked a variety of questions that aim to evaluate current practices surrounding e-invoicing processes, financial objectives and the strategic challenges experienced by CFOs and other financial professionals in businesses of all sizes.
Although some results demonstrate global trends, other results show clear differences in how each market operates. For example, managing currency volatility over the next 12 months is a key priority for a third of UK businesses. However, other European regions did not see it as a huge concern.
When governments struggle to spur on economic growth and markets remain precariously balanced, currency volatility can present significant challenges to markets like the UK, especially given its levels of overseas trade and status as a hub of international business.
However, many businesses are looking to technology to increase speed, control and efficiency in the face of this volatility. In this research, the vast majority of businesses saw e-invoicing as a tool that can help them manage and mitigate currency volatility.
Transparency and rapid processing is of paramount importance when dealing with currency in flux and if constrained by paper an already complex invoicing and payment process can become mired in an added layer of confusion.
Whilst currency fears are greater for the UK than the rest of the world, 73 per cent of UK respondents agree that e-invoicing can help improve management of currency changes and conversion. In fact, all countries surveyed found that e-invoicing and automation had a significant impact on helping companies achieve their financial objectives.
As you can see, there are many differences of opinion across the globe. But on one issue they are all agreed; e-invoicing makes life easier for financial professionals and it will, and should, be used by the majority of businesses to help them grow.
About Basware
Basware is the global leader in cloud based e-invoicing and purchase-to-pay solutions with more than 1,000,000 users in over 60 countries. Basware's B2B Cloud solutions and services provide an open, secure and global ecosystem for buyer and supplier collaboration, connecting more than 1.9 million buyers and suppliers globally. The solutions are architected to meet the needs of SMEs and global enterprises and are built upon Basware's deep knowledge and experience of B2B financial processes, coupled with intelligent cloud connectivity and the Open Network. With Basware, organisations benefit from more efficient procurement, accounts payable and accounts receivable processes, sustainable cost savings, better insight to cash flows and improved buyer-supplier relationships. The solutions are available via the cloud, on-premise or through business process outsourcing in Europe, the US, and Asia-Pacific through an extensive network of Basware offices and business partners.
http://www.basware.co.uk