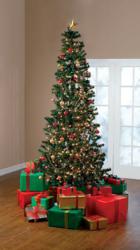 The BrylaneHome® team is committed to providing a one-stop-shop for everything home, designing collections that make decorating and entertaining easy and affordable.
New York, NY (PRWEB) November 28, 2012
BrylaneHome®, home and lifestyles brand in the portfolio of Redcats' OneStopPlus Group, has launched a new line of holiday décor, providing an expanded collection of indoor and outdoor Christmas decorations.
The holidays can be a stressful time of year so the home decorating experts at BrylaneHome® have designed a beautiful collection of holiday décor that complements traditional decorations and family heirlooms, creating a new (and festive) look on a limited budget. From Christmas trees to cordless LED wreaths to eye-catching centerpieces, BrylaneHome® has thought of special details to add a touch of holiday in every room of the house.
For the front door, hang the 18" Cordless LED Wreath, pre-lit and pre-decorated with beautiful ribbons, bold bows, decorative ornaments and 15 LED lights, lighting up your home décor with Christmas spirit. Heading into the living room, decorating is easier than ever with the 8' Complete Tree-In-A-Bag featuring 300 clear lights, 560 tips, 80 decorations, 100 ornament hooks, 1 beaded garland and a star topper. To add a little something extra, set the Color-Changing Snowman Globe on the fireplace, featuring an LED illuminated base with swirling glitter that changes from red, purple, blue, and green. And for the dining room, cover the table with BrylaneHome®'s Christmas Ribbons Tablecloth made of ivory woven damask with a center medallion and border design of trailing ribbons, poinsettias and greenery; add the Pre-Decorated Candle Holder Centerpiece (pre-trimmed with red and gold ornaments, berries, pine cones, golden leaves and warm LED lights) and you have the perfect table for a holiday feast.
"The BrylaneHome® team is committed to providing a one-stop-shop for everything home, designing collections that make decorating and entertaining easy and affordable," said David Milgrom, Senior Vice President/General Brand Manager for BrylaneHome®.
BrylaneHome® offers the latest styles, colors and designs in bedding, bath, window, cooking, dining, entertaining and beautiful home accents. BrylaneHome® also features the Plus Size Living collection, providing convenience and comfort in both home and lifestyle products for plus-size customers.
Visit BrylaneHome.com and order anytime 24/7. Orders are shipped via UPS and will arrive to the designated shipping address within a few days. Customers can also join the thousands of fans who are following BrylaneHome® on its Facebook and Twitter pages.
OneStopPlus.com® is the #1 destination to shop for plus sizes, an online marketplace featuring thousands of brands and products that are specifically targeted to plus size customers. Proprietary brands in the OneStopPlus portfolio include: OneStopPlus.com®, Woman Within® (WomanWithin.com), Roaman's® (Roamans.com), Jessica London® (JessicaLondon.com), Full Beauty (fullbeauty.com), KingSize® (KingSizeDirect.com), BrylaneHome® (BrylaneHome.com) and Bargain Catalog Outlet - BCO® (BCOutlet.com).
About Redcats USA
Redcats USA is a dynamic, web-driven home-shopping leader with numerous successful brands and specialized e-commerce sites in its portfolio: OneStopPlus.com®, Woman Within®, Jessica London®, Roaman's®, fullbeauty, KingSize®, BrylaneHome®, Bargain Catalog Outlet – BCO®, The Sportsman's Guide® , Bargain Outfitters®, Boating Savings®, Work Wear Savings®, TGW.com - The Golf Warehouse®, Baseball Savings®, Softball Savings® and Soccer Savings®. Redcats USA offers a wide range of value and quality driven merchandise categories, including men's and women's plus-size apparel, home and lifestyle products, and sporting goods/outdoor gear. Redcats USA is a Redcats company.
About Redcats
Redcats is a world leader in the online distribution of fashion, home decoration, and sports and leisure goods. The group distributes its brands and those of its partners on three continents. These brands include La Redoute, Daxon, Vertbaudet, Cyrillus, Castaluna, Ellos, Jotex, Woman Within, Jessica London, Roaman's, KingSize, BrylaneHome, OneStopPlus.com, The Sportsman's Guide and The Golf Warehouse, as well as specialized collections and websites.
In 2011, Redcats turnover totaled €3.048 bn—with 61% generated from online sales—and employed a staff of over 11,000.
All Redcats brands and e-commerce sites can be found at http://www.redcats.com. Redcats is a PPR company.
Contact Information
Karen Davis
Corporate PR & Communications
Redcats USA
Karen.davis(at)redcatsusa(dot)com
212-502-9315