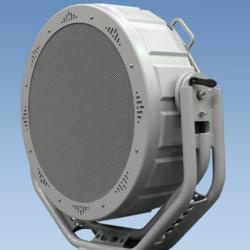 "With overwhelming customer demand, the HyperSpike team decided to design the next generation HS-40."
Columbia City, Indiana (PRWEB) November 28, 2012
Ultra Electronics – USSI announces today the release of the upgraded HyperSpike® HS-40 Acoustic Hailing Device (AHD). The HS-40 is significantly lighter, supporting a carbon fiber housing and acoustical more powerful than the original HS-40 which has been in production for the past three years. The new and improved HS-40 will enhance acoustic performance in both intelligibility and acoustic output to become the loudest production AHD in the Ultra Electronics- USSI inventory.
"With overwhelming customer demand, the HyperSpike team decided to design the next generation HS-40," said James Martzall, Business Development for HyperSpike products, "Our highly skilled engineers were able to make the HS-40 more powerful, lighter, and provide exceptional voice clarity compared to other AHDs on the market."
"The first thing they teach you in engineering school is a product can always be improved on," said Bill Headlee, Program Manager of HyperSpike Products. "I take great pride in seeing my team strive to make constant improvements that improve the operational benefits for the force protection operators. End users of the HS-40 will be amazed at the acoustic power to weight ratio provided in this condensed package."
The HS-40 can produce over 163+ dB and can send voice messages and alert tones over 2000 meters. Not only can the HS-40 send clear messages over long distances, it can be heard with excellent intelligibility. The HS-40's Speech Transmission Index (STI) rating is 0.91 out of 1.0. HyperSpike's development team has made HyperSpike a market leader in the AHD market. Everyday more customers are turning to HyperSpike technology for its durability, cost effectiveness, reliability, and technological advances in acoustics.
Ultra Electronics - USSI is an innovative global supplier of highly intelligible, ruggedized, long ranges acoustic communication devices, and high power and commercial speaker arrays. Being deployed world-wide, these products are used in diverse applications such as crowd control, mass notification, border/port security, law enforcement, maritime security, perimeter protection, and more. To find out more or request a demonstration, please visit http://www.Ultra-HyperSpike.com