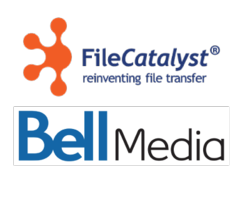 "Our file transfers are now much faster and more secure than with our previous server."
Ottawa, ON (PRWEB) November 27, 2012
Bell Media, Canada's premier multimedia company, offers a multitude of content to viewers, including news, sports, and entertainment programs for television, radio, and digital platforms. The company has regular exchanges of material to and from outside parties, making file transfer a critical and continual process. With many file transfers occurring with outside production units, FileCatalyst provided a quicker way to accommodate the exchange of high-definition source material with outside partners such as animation and design studios, music production companies, as well as product vendors who receive test material.
To further meet their needs, Unlimi-Tech provided FileCatalyst Workflow and FileCatalyst Direct Server with full backup configuration for high availability. FileCatalyst Workflow manages the content submission process for Bell Media by enabling contributors to easily submit large files, with full tracking at every stage through a browser interface. FileCatalyst Direct is an accelerated file transfer solution made available by installing the FileCatalyst Server and one of many client side options.
"Our file transfers are now much faster and more secure than with our previous server. We also needed a new, simpler approach to file transfer that users of any level could understand and FileCatalyst was able to deliver that," says Mathew Sherman, Senior Manager, Creative Technology at Bell Media. "The support team at FileCatalyst was tremendously helpful and accommodating during our initial testing, proof of concept, and final implementation of the FileCatalyst Workflow and Direct solutions."
"We are very excited to be helping Bell Media improve the reliability and speed of their file transfers with FileCatalyst Workflow and FileCatalyst Direct," says John Tkaczewski, President of Unlimi-Tech Software. "Both solutions help to address Bell Media's needs for accelerated file transfer with large media files, while simplifying the administration process for IT and the submission process for contributors."
About Unlimi-Tech
Located in Ottawa, Canada, Unlimi-Tech Software is the creator of FileCatalyst, the world's leading accelerated file transfer solution. Founded in 2000, the company has more than a thousand customers in media & entertainment, energy & mining, gaming and printing, including many Fortune 500 companies as well as military and government organizations. FileCatalyst is a software platform designed to accelerate and manage file transfers securely and reliably. FileCatalyst is immune to the effects that latency and packet loss have on traditional file transfer methods like FTP, HTTP or CIFS. Global organizations use FileCatalyst to solve issues related to file transfer, including content distribution, file sharing and offsite backups. For more information, please visit http://www.filecatalyst.com.