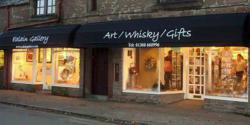 "Amazon has over 100 million customers worldwide. If they all turned up at the shop, they'd be queued out the door and round Loch Lomond 300 times over…"Cameron McCann - Ealain Gallery
Stirling, Scotland (PRWEB UK) 28 November 2012
Adding water to malt whisky can be a very sensitive subject indeed – heaven for some, a crime against nature to others. But for whisky specialist Ealain Gallery of Drymen, on the banks of Loch Lomond, adding Amazon to their sales mix is already proving to be very much a match made in heaven.
Just 2 days after their initial listing with the giant online retailer, achieved through marketplace management experts Seller Dynamics, the upmarket whisky shop has already seen Amazon customers snap up some of its finest whiskies – including a near-£100 bottle of 21-year-old Old Pulteney, from Scotland's most northerly mainland distillery.
Cameron McCann, owner of Ealain Gallery, is delighted with the Amazon link. "We've been working with Seller Dynamics for the past month, making sure everything was in place for our Amazon store to open ahead of the Christmas period. They've been instrumental in getting us through all the approvals needed to sell alcohol in this way, and we're already seeing the benefits."
"Our shop couldn't be in a more beautiful setting, on the High Street in Drymen, right in the heart of the world-renowned Loch Lomond and Trossachs National Park, welcoming hundreds of customers a week. Now our online store is starting to reach out to a world audience of millions, with the help of Seller Dynamics and Amazon" says McCann.
Steve Boland of Seller Dynamics believes this is the start of something big. "Whisky is perhaps Scotland's most famous export, with a rich and proud heritage stretching back hundreds of years, and global sales in excess of £4bn annually, reaching every country in the world. Selling online like this, as Ealain Gallery are proving, opens Scotch whisky up to many millions of connected connoisseurs, who can now track down the rarest and finest this country has to offer from the comfort of their favourite armchair"
And Boland maintains that this fits perfectly with much of what Scotland has delivered to the world. "The internet couldn't exist without the great Scottish inventions of telecommunications and television, so it's only natural that another of Scotland's greatest creations should be reaching the world in this way. It's exactly how the likes of Johnnie Walker and Arthur Bell would have sold their wares in the 19th Century if the wonder of the web had been available then, and we at Seller Dynamics are very proud to be another pioneering Scottish company helping all kinds of retailers reach out to the world with their online stores"
Cameron McCann expects much more to follow from this promising start "Amazon has over 100 million customers worldwide. If they all turned up at the shop, they'd be queued out the door and round Loch Lomond 300 times over… so this is a perfect way for our shop to bring Scotland's finest whiskies to the world"
---------- End ----------
For further information contact Seller Dynamics
at +44 (0)1786 430076
or email steve.boland(at)sellerdynamics(dot)com
Note for editors:
About Seller Dynamics: Seller Dynamics is dedicated to helping retailers maximise their sales and profits online, by utilising the power of marketplaces such as Amazon, eBay, Play.com, and Fnac.com. With Seller Dynamics, retailers can list their entire product portfolio on these marketplaces, reaching a global audience of billions, while simplifying their overall business management through Seller Dynamics' powerful inventory management and dynamic price management tools.
Seller Dynamics is a brand of Objective Associates Limited, a leading software and web development agency based in Stirling, Scotland. The company offers Seller Dynamics on a commission based model together with a modest set up fee. Formed in 2002 with a background in class-leading enterprise-grade ATM software development, the company has significant expertise in the design and development of robust and scalable software systems utilising the Microsoft Platform and related technologies.
About Ealain Gallery:
Ealain Gallery– pronounced ya-lin, is the Gaelic word for art. The gallery is located in Drymen, just on the east side of Loch Lomond in the heart of the Loch Lomond and Trossachs National Park. The Drymen shop opened its doors in November 2008 and now features some of the best Scottish Art and Scottish Whisky, with changing Scottish art exhibitions and daily whisky tastings celebrating and promoting the best Scotland has to offer, featuring contemporary art, whisky, ceramics, glass ware, pottery and designer jewellery, coupled with our gifts for all ages and occasions. Ealain Gallery, 36/42 Main Street, Drymen, Glasgow, G63 0BG.
t: 01360 660 996 e: info(at)ealaingallery(dot)com