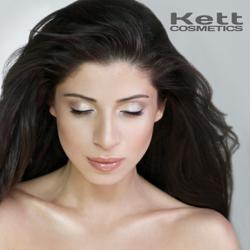 (PRWEB) November 29, 2012
Distributed in nearly 20 countries, Kett Cosmetics has developed a cult following among professional makeup artists, celebrities and general consumers alike and is more accessible than ever before.
"Increased availability in these locations addresses the market demand for Kett products while providing greater brand visibility worldwide." -- Sheila McKenna, Founder and President of Kett Cosmetics.
For more than a decade, Kett Cosmetics has supplied the professional makeup industry with products that challenge the unforgiving lens of the high-definition camera. By developing their products in a lab and using a hi-def camera as a microscope, Kett created a line of highly effective foundations, liquid pigments and setting powders that provide long-lasting, flawless coverage with the flexibility to create endless looks.
What began in 2000 as a niche brand for professional makeup artists in the film and television industry has transformed into a crossover consumer collection of cosmetic products and airbrush equipment.
"Expanding our roster from the professional beauty industry to retail stores and salons is a continuous goal for us. We are committed to serving the needs of our growing market and will continue to build our loyal customer base by providing superior products that are vegan and paraben free," said McKenna
The launch of a new website design is yet another punctuated statement made this year by Kett as a measure to elevate product accessibility and the client experience worldwide.
For more information visit http://www.kettcosmetics.com or contact Kett Cosmetics Business Affairs at mk(at)kettcosmetics(dot)com.